Houston Dentist Reveals Benefits of Securing Dentures with Mini-Dental Implants
Dr. Ann Haggard of Designer Smiles authors a blog post depicting mini-dental as an effective solution for patients in need of more security for their partials or full set of dentures.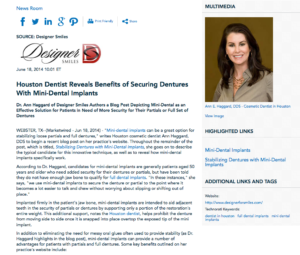 Webster, TX — "Mini-dental implants can be a great option for stabilizing loose partials and full dentures," writes Houston cosmetic dentist Ann Haggard, DDS to begin a recent blog post on her practice's website. Throughout the remainder of the post, which is titled, Stabilizing Dentures with Mini-Dental Implants, she goes on to describe the typical candidate for this innovative technique, as well as to reveal how mini-dental implants specifically work.
According to Dr. Haggard, candidates for mini-dental implants are generally patients aged 50 years and older who need added security for their dentures or partials, but have been told they do not have enough jaw bone to qualify for full dental implants. "In these instances," she says, "we use mini-dental implants to secure the denture or partial to the point where it becomes a lot easier to talk and chew without worrying about slipping or shifting out of place."
Implanted firmly in the patient's jaw bone, mini-dental implants are intended to aid adjacent teeth in the security of partials or dentures by supporting only a portion of the restoration's entire weight. This additional support, notes the Houston dentist, helps prohibit the denture from moving side to side once it is snapped into place overtop the exposed tip of the mini implant.
In addition to eliminating the need for messy oral glues often used to provide stability (as Dr. Haggard highlights in the blog post), mini-dental implants can provide a number of advantages for patients with partials and full dentures. Some key benefits outlined on her practice's website include:
Range of candidacy
Improved comfort and function of dentures
Little to no recovery and downtime
Cost-effectiveness
Ultimately, Dr. Haggard concludes her blog post with what she feels could be the greatest benefit of mini-dental implants: "In the end, mini-dental implants may be able to provide the security necessary for you to feel comfortable eating, speaking, and smiling without having to worry about your partial or full dentures shifting out of place."
About Ann E. Haggard, DDS
Dr. Ann Haggard graduated from Centenary College of Louisiana and earned her dental degree from Texas A&M Baylor College of Dentistry. She is an active member of several prestigious dental organizations, including the American Dental Association, the Texas Dental Association, and the Houston District Dental Society, among others. Dr. Haggard is available for interview upon request.
For more information about Dr. Haggard or mini-dental implants, visit designerforsmiles.com.
Contact:
Designer Smiles
1015 Medical Center Blvd. Suite 1600
Webster, Texas 77598
281-667-4010
Rosemont Media
[email protected]
858-200-0044
www.rosemontmedia.com