Despite good habits of brushing and flossing, eventual tooth discoloration can be inevitable. Over the years, significant staining can be brought on by the consumption of coffee, red wine, soft drinks, and tea. Additionally, the natural aging process and the use of tobacco products can also contribute to the yellowing and staining of teeth.
Fortunately, Webster cosmetic dentist Ann Haggard, DDS – as well as Dr. Lauren Eichblatt, Dr. Chet Hawkins, and the rest of our experienced dental team at Designer Smiles – offer effective in-office and take-home teeth whitening treatments that can help you diminish the appearance of stains and achieve a whiter smile with brilliant results. The teeth whitening methods we offer are generally safe and effective, and routinely used by dentists to enhance the appearance of patients' smiles.
What Are the Benefits of Professional Teeth Whitening?
Professional-grade Zoom!® teeth whitening can offer many benefits, not limited to:
A dramatically whiter, brighter smile
Reduction of discoloration and stains
A non-invasive treatment with minimal risk of discomfort
Very quick (often immediate) results
Effects that can last up to two years
For patients who desire a permanently whiter smile or those with discoloration that is resistant to whitening methods, we may recommend placement of custom porcelain veneers.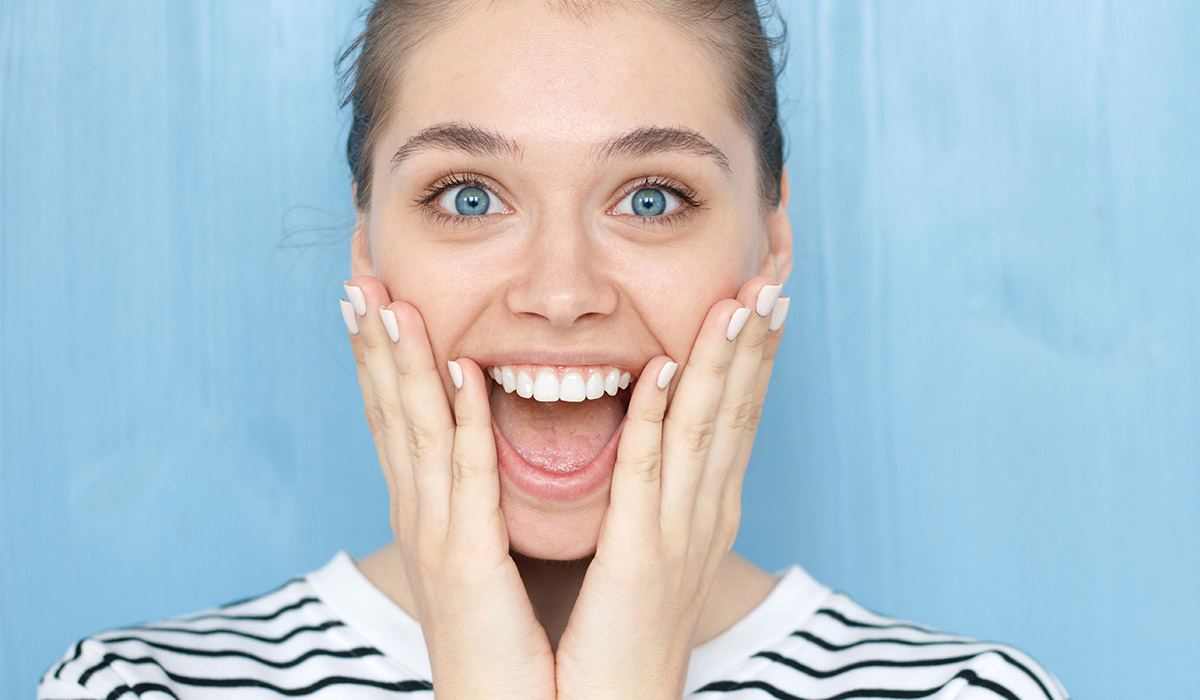 Who Is a Candidate for Teeth Whitening?
Virtually any patient with healthy teeth and gums can enjoy the benefits of this popular cosmetic dentistry treatment. With this simple procedure, patients with smiles dulled by a variety of deep and superficial dental stains can dramatically lighten tooth discoloration for beaming results.
For patients who may have cavities or irritated gums, a routine dental checkup must be performed to see if any dental treatment is required before the teeth can be whitened. Healthy teeth and gums are necessary due to the strength of the professional bleaching agents we use, which could exacerbate existing dental health concerns.
Professional vs. Over-the-Counter Teeth Whitening
Professional teeth whitening methods offer the highest-quality and most reliable whitening results. Whitening toothpastes and mouthwashes sold in stores are often used with the hope of lightening the appearance of dental stains, but these products usually produce limited results over a long period of use. These over-the-counter whitening agents typically only treat the  superficial portion of the tooth enamel, while significant discoloration can remain unaffected in a deeper layer of the tooth called the dentin. The professional teeth whitening systems we offer at our practice utilize powerful bleaching ingredients that can penetrate the dentin to break down deep stains. Our effective in-office treatments and at-home kits can deliver remarkable results that may be several shades whiter than your initial tooth color.
Which Teeth Whitening Methods Are Available?
Once patients are cleared for whitening, they have the option of choosing between the in-office Zoom!® treatment or our take-home system. Your dentist may recommend a particular technique based on the type and severity of discoloration you have, your personal smile goals, or lifestyle. We may even suggest combining both methods for a more impressive, long-lasting result. In some cases, those with tooth sensitivity may be better suited for our take-home teeth whitening technique, as the process is more gradual than an in-office procedure and treatment frequency can be adjusted if sensitivity becomes too bothersome.
Zoom!® In-office Teeth Whitening
In-office teeth whitening with Zoom!® is a relatively quick and simple way to achieve the brighter smile you desire. Utilizing this technique, a peroxide whitening gel will be applied to the surface of your teeth and a low-intensity curing lamp will be positioned over your mouth. Once activated by the light from the lamp, the gel will release peroxide into the teeth, effectively reducing signs of yellowing and staining while gently bleaching your teeth. The entire procedure typically takes about one hour and results can often be seen immediately. Throughout your in-office teeth whitening treatment, you will even be able to listen to music or take a quick nap!
Take-Home Teeth Whitening
Take-home teeth whitening is a convenient way to brighten your smile on your own time. This alternative to our in-office Zoom!® treatment utilizes customized whitening trays designed from an exact mold of your teeth. Once your trays have been constructed, you will receive specific instructions on how long and how often to wear your trays based on the degree of whiteness you wish to achieve. When your teeth have reached the desired level of whiteness, the treatment will be complete and you can discontinue the use of your trays. Our take-home teeth whitening treatment is professional-grade and can be very effective when used properly.
Is Teeth Whitening Safe?
Zoom!® teeth whitening treatments are considered extremely safe when administered by an experienced dentist. The reputable Zoom!® brand produces research-backed, clinically proven formulas to safely and effectively bleach teeth.
To potentially prevent complications related to existing conditions, one of our dentists will perform an initial examination to determine whether your teeth and gums are healthy prior to the treatment. Those with especially sensitive teeth may experience some slight discomfort, but this typically fades quickly.
How Long Do Teeth Whitening Results Last?
Teeth whitening treatment can promptly provide a brighter smile, but as the teeth are exposed to staining substances, touch-ups may help preserve your results. Your teeth will naturally discolor as they are exposed to particular foods and drinks, such as coffee, tea, wine, and berries. The length and frequency of exposure, along with your dental hygiene habits, will determine how quickly and deeply new stains can set in. Brushing right after eating and drinking and performing regular at-home whitening sessions can help keep your smile white. In some cases, patients elect to refresh their results with an in-office treatment every year for a stunning smile that never subsides.
How Can I Reduce Sensitivity After Teeth Whitening?
Patients may feel slight discomfort during and after the teeth whitening process. While this sensitivity typically does not last long, there are ways to potentially ease pain following the treatment. These actions include:
Rinsing with fluoride mouthwash
Brushing with anti-sensitivity toothpaste
Temporarily avoiding very hot or cold beverages, as well as spicy or acidic foods
It is unlikely that you will experience severe pain after teeth whitening, but please remember that you are always welcome to reach out to our team if any problems arise.
How Much Does Teeth Whitening Cost?
The cost of teeth whitening can vary depending on many factors, including the type of treatment being performed (i.e., in-office or at-home); the number of sessions administered; the extent of treatment; and whether the procedure is performed alongside other treatments, such as a customized smile makeover.
As part of our devotion to patient satisfaction, we aim to make the financial aspect of care as stress-free as possible for each patient. In addition to accepting checks, cash, and all major credit cards, Designer Smiles partners with Lending Club and CareCredit® to provide eligible patients with the opportunity to pay for their care in installments. Please feel free to explore our dental financing options or contact our helpful team with questions.
Contact Designer Smiles for Teeth Whitening
For more information about our in-office and take-home teeth whitening treatments, or to schedule a teeth whitening appointment with one of our dentists, please contact Designer Smiles today. Our friendly team will be happy to assist you in any way we can.