What Is a Smile Makeover?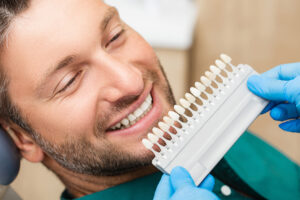 A smile makeover is a change in the appearance of your smile through cosmetic dental restorations. We have a variety of ways that we can remake someone's smile. The goal is to create the smile that you want. We believe that beauty comes in many forms, and it is important that we help you achieve the smile that looks both beautiful and natural.
There is no such thing as one-size-fits-all when it comes to smile makeovers. Your smile is as unique as you are! At Designer Smiles, we custom design each smile makeover to fit each patient's individual needs and desires.
What Are the Benefits of a Smile Makeover?
Obviously, there is the cosmetic benefit of improving your appearance when you undergo a makeover of any kind. Everyone loves a beautiful smile. With a smile makeover, we typically see a few other important advantages.
People who love their smiles have more confidence when interacting with others. They can speak, smile and laugh without feeling self-conscious. Because they smile more, they also come across as being friendlier than people who do not smile.
Confidence and friendliness are important to both your social and professional success. People with nice smiles have more successful interviews and a better chance of being hired than those who do not.
One important advantage of a smile makeover over other comparable monetary investments is the lack of depreciation. Let's say you choose to purchase a new car instead of treating yourself to a smile makeover. In ten years, your car is worth a small fraction of the cost, but your smile never depreciates!
What Are My Smile Makeover Treatment Options?
Your treatment options depend on your unique dental situation. As we said earlier, we do not take a one-size-fits-all approach, but instead customize each designer smile we create.
For some patients, their crowded and stained teeth require straightening with Invisalign® and professional teeth whitening. For others, we can change the shape and size of the teeth by covering them with beautiful and natural-looking porcelain veneers. We have some patients who straighten their teeth before covering them with veneers to achieve the best cosmetic result.
Some patients have severe breakdown of their teeth and require rebuilding with dental crowns. When multiple teeth are missing, we can restore an entire dental arch with dental implants and permanently attached prosthetics.
The important thing to understand is that Dr. Ann will work with you to formulate a custom-designed treatment plan, so that your unique smile makeover meets your unique goals.
What Is Involved in the Smile Makeover Process?
We can divide our designer smile makeover process into three stages, and each one is essential to a successful outcome!
Pre-Treatment Phase
Before you undergo any smile makeover treatment, we commit to a thorough pre-operative planning process. The first step is good communication between you and Dr. Ann so that we are on the same page regarding your goals for the final result. We will also gather information in the form of photos, dental X-rays, and replicas of your current dental state. Dr. Ann will then work with you to help you choose which treatment option is the right one for you.
Treatment Phase
Having chosen your smile makeover option, you will schedule your appointments for visits with Dr. Ann. The number and length of appointments varies widely due to the broad range of treatment options.
For patients with great dental health who are ready for porcelain veneers, your smile may be completed in as few as two visits. Those of you needing teeth straightening might commit to several years of treatment.
Smile makeover treatments also range from non-invasive conservative options, like Invisalign and teeth whitening, to the surgical placement of dental implants.
Post-Treatment Phase
Once your beautiful new smile is complete, you are not! In fact, you'll never be "finished" with your smile. The long-term success of a smile makeover requires long-term maintenance. This takes the form of consistent dental visits and professional teeth cleanings. For many patients, it also involves wearing protective mouthguards or retainers to prevent relapse or heavy wear and tear. Dr. Ann also customizes your maintenance to address your unique risk factors.
How Much Does a Smile Makeover Cost?
The cost of a smile makeover varies depending on the exact treatments you undergo. You could be looking at a few hundred dollars for professional teeth whitening, a few thousand for Invisalign treatment, or as much as the cost of a new car for total dental reconstruction of your smile.
Our front office team members are experts at helping patients find options to get the smile of their dreams and stay within their budget. Let us help you meet your smile goals today!