Cosmetic Dentistry
Designer Smiles offers a variety of cosmetic dentistry procedures that can correct a broad range of aesthetic dental concerns. Our goal is to help our patients achieve the healthy, beautiful smile they have always wanted. Thanks to recent advancements in dental materials and techniques, cosmetic dentistry is more comfortable, versatile, and popular than ever before. The treatments we offer can quickly and effectively correct misalignment, chips, stains, cracks, gaps between teeth, and other issues that can affect the appearance of your smile. Within the span of one or two office visits, we can transform your smile with long-lasting results.

Dr. Ann is absolutely brilliant! I love her work and I love my smile!

Giselle Saroufim Kunzat

September 14, 2017

12345
To learn more about the cosmetic procedures that Drs. Ann Haggard and Lauren Eichblatt offer, we invite you to explore the following links which lead to more detailed treatment descriptions. If you would like to schedule a consultation with an experienced cosmetic dentist at Designer Smiles please contact our office.
Trial Smile
See the results of cosmetic procedures you are considering before you commit to your smile makeover. A trial smile can make it possible for you to experience the appearance of your new smile in our office to decide if you are satisfied with your look. The custom-designed composite façade is temporarily bonded to the front of your teeth, replicating your proposed smile design. Your trial smile can be adjusted, if desired, and any significant revisions or improvements you request will be reflected in the design of your final restorations.

Learn More
Teeth Whitening
No amount of brushing and flossing can prevent the eventual discoloration of your teeth.
This staining usually happens over the course of years and can be blamed on such culprits as tea, coffee, red wine, soft drinks, and tobacco. Fortunately, the dentists of Designer Smiles offer teeth whitening solutions that are convenient and effective
In-Office Teeth Whitening

Whether you are preparing for a special event or just feel that your teeth could use some brightening, in-office teeth whitening is a fast and easy way to get your teeth several shades whiter. The process is simple. Your dentist will apply a peroxide gel to the surfaces of the teeth, and then position a curing lamp over your mouth for about an hour. As the peroxide is released from the gel, it will safely remove the stains from the surfaces of your teeth. During this process, you may choose to listen to music or even to take a nap.
Take-Home Teeth Whitening
If you would prefer to manage the teeth whitening process on your own time and in your own home, we are happy to provide take-home kits as an alternative to the in-office procedure. You will need to come into the office for the initial consultation and so we can take a mold of your teeth. This mold will be used to create the customized trays that you will use at home.
Depending on the desired whitening outcome and your dental health profile, your dentist may instruct you to wear the whitening trays for a few hours each day or overnight. Before you know it, you will have a gleaming, brilliant smile looking back at you from the mirror! If you would like to learn more about the teeth whitening options available from Designer Smiles, contact our Houston office to schedule a consultation with one of our cosmetic dentists.
Porcelain Veneers
No longer reserved for the rich and famous, porcelain veneers have become a practical, convenient way to completely transform the appearance of your teeth. An astounding array of imperfections can be corrected with the application of veneers, including:
Staining that is resistant to teeth whitening techniques
Gaps between teeth
Uneven tooth length
Misaligned or rotated teeth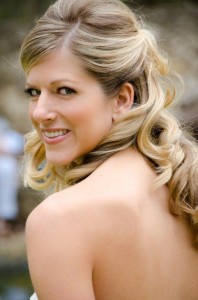 The procedure for applying porcelain veneers can usually be completed in two office visits. During your first appointment, one of our dentists will sit down with you for a detailed consultation. He or she will determine the problem that needs to be corrected and how many teeth need to be treated with veneers.
Your teeth will then be prepared to receive the veneers; this requires the removal of a small amount of enamel from the surface of each tooth to be treated. After making a precise mold of your teeth, your dentist will send it to the lab along with detailed instructions for the measurement, color, and translucency of the desired finished product.
Once the porcelain veneers are ready, it will be time for your second visit to the office. The dentist will place each veneer over its designated tooth. If the fit is good, bonding cement will be applied and the porcelain veneers will be permanently attached.
Today's porcelain veneers are created to mimic the pearlescent quality of natural teeth, and thus are more realistic than ever before. With careful hygiene and regular dental checkups, your new porcelain veneers will last you for many beautiful years to come. Visit our porcelain veneers page to learn more about this dental procedure.
Your new smile is waiting at Designer Smiles! Let our cosmetic dentists answer all your questions and help you to decide whether aesthetic dentistry is right for you. Contact us today to schedule a one-on-one consultation.
Porcelain Crowns
In many cases, dental bonding or a tooth colored filling is sufficient to repair a damaged or decayed tooth. However, when excessive damage has made the tooth unstable, additional reinforcement is required in the form of a crown, or cap. We prefer to use porcelain crowns for repairs of this nature, as porcelain can be aesthetically matched to the color of the surrounding teeth.
If our dentists determine that you need a crown on one of your teeth, your first appointment will be used to measure the tooth's dimensions. The dentist will also take careful notes on the color and overall appearance of the tooth to be capped so that the lab can create a faithful reproduction. This will be followed by preparation, impression, and custom temporization.
When the crown is complete, you will need to visit our office again to have your custom-made crown permanently cemented into your mouth. Once the dentist cements it into place, your new crown will provide you with years of function and beauty.
Many commercial labs are available for crown and bridge fabrication. A thorough examination of several lab clinicians has been carried out. Our lab technician is available in-office for custom shade consultations to achieve maximum esthetic result. Dr. Haggard, with 38 years' experience, states that our current lab tech. is the best functional and esthetic technician he has ever used.
Tooth Colored Fillings
If you are like most Americans, you have at least one metal filling in your mouth from a past cavity. Thanks to advances in dental resin technology, there is now a less noticeable way to fill cavities. Tooth colored fillings, made of durable resin, can last longer than metal fillings because they expand and contract with heat in much the same way as the natural tooth, reducing the likelihood of a loose filling.
Because they are precisely matched to the color of the surrounding enamel, tooth colored fillings are barely detectable, even when they are near the front of the mouth. If you are interested in replacing your existing metal fillings or think you may have a cavity that needs attention, contact the dentists at Designer Smiles today for a consultation.
Rating:
Cheryl B.
"Best ever – really, EVER!"
About the Office:
Office Cleanliness:5 stars
Staff Friendliness:5 stars
Short wait time:5 stars
Chairside manner:5 stars
Explained treatment:5 stars
Review Description:"I have just returned to Designer Smiles after having to go somewhere else due to a work move, location change. Once I got back on my side of town and needed some serious work done, I was able to return. I completely trust them. I know they have my best interest at heart and are genuine about it. Had 3 old fillings replaced and I haven't had a bit of problem with my bite being unbalanced or anything. Completely satisfied. THANK YOU!!"
Dental Implants
Dental implants are fast becoming the most popular way to replace one or more missing teeth. Dentists have found that implants tend to be more durable and behave more like natural teeth than other methods of tooth replacement such as bridges and removable dentures.
The first step of getting a dental implant is to have a titanium support post placed in the jawbone where the missing tooth was. To complete this specialized procedure, we partner with a highly qualified oral surgeon in the area. After the post has been implanted, you will need to let it heal for three to six months so the post can be fully integrated with the bone around it. This process, called osseointegration, is why dental implants have similar strength to natural teeth.
Once the post is firmly seated in the jaw and has fully healed, you will return to our office to be fitted with your new tooth. It will be carefully crafted to match the size, shape, and color of the surrounding teeth. Dental implants are often so realistic that our patients forget they have them! Before you leave, we will give you full instructions on how to care for your new implant and answer any remaining questions you might have.
Most people with healthy teeth and gums are good candidates for dental implants. It is important that you have enough healthy bone in your jaw to support the titanium implant post; one of our experienced dentists can easily determine your candidacy during your consultation and will be able to discuss other tooth replacement options with you as well. Contact Designer Smiles today to make an appointment, or visit our dental implants page for more information.
Mini-Dental Implants
Mini-dental implants allow patients to replace some or all of their teeth with implant supported bridges or dentures. This innovative solution enhances stability, eliminates "slippage" and the need for adhesives, and improves overall comfort. Mini-dental implants may be ideal for patients who want the security of dental implants but lack sufficient jawbone density for a full set of single tooth implants. This dental implant option is also typically a more cost-effective method of tooth replacement and requires significantly less healing time than standard dental implants.
Invisalign®
Invisalign® is an orthodontic treatment that can discreetly straighten your smile. Unlike traditional braces, Invisalign® uses a system of clear plastic aligners to gently guide your teeth into their ideal position. Since these aligners are removable, patients can more easily clean the teeth and enjoy all the foods they love without restrictions. Patients with mild to severe tooth misalignment, unevenly spaced teeth, or overly-crowded teeth can benefit from Invisalign®.
Invisalign® Teen
Invisalign Teen is specifically designed to straighten the teeth of younger patients. The system uses the same clear plastic aligner technology as standard Invisalign® with additional benefits that better allow our dentists to monitor a younger patient's progress. Young patients prefer Invisalign® Teen over traditional braces since this orthodontic treatment is barely visible to others. With Invisalign® Teen, younger patients can effectively straighten their teeth without the embarrassment or hassle of uncomfortable and bulky metal braces.
Gum Recontouring
Excess gum tissue can make the teeth appear short, creating a "gummy smile" or an uneven gumline. With gum recontouring techniques, our dentists can reshape the gumline for a beautiful, natural looking, and proportionate smile. A state-of-the-art CO2 laser is used to sculpt and immediately reseal the gum tissue for fast healing. Gum recontouring treatment can also be used to improve the movement of the lips or correct issues with the frenulum.
Dental Bonding
Dental bonding is one of the most versatile cosmetic dentistry techniques available today. Bonding can be used to correct chips and small cracks in teeth as well as slight imperfections in alignment and spacing.
The material used for bonding is a tooth colored resin, very similar to the one used for tooth colored fillings. The dentist will carefully blend the resin with pigment so it matches the tooth being repaired. Then, with an artist's skill, the dentist will apply the resin to the tooth and shape it into the desired contour. After the resin cures under a light, a final buffing will bring a natural looking shine to the restored tooth.
You don't have to live with less than perfect teeth. If you'd like to fix a chipped tooth or get rid of a gap between your teeth without the inconvenience of braces, contact Designer Smiles to learn more about the possibilities of dental bonding.
Related Pages