If you'd like to keep your teeth and gums as healthy and attractive as possible, it's important to follow good hygiene practices at home and come in for regular professional checkups at Designer Smiles. We offer a full array of cleanings and periodontal (gum) care—everything you need to maintain a sparkling smile. We also provide services for more advanced oral health concerns, such as TMJ disorder and sleep apnea. Please contact our practice for more information on the general dentistry options we offer.
Checkups and Cleanings
When you first visit our practice, our dental team will dedicate an entire appointment to getting to know you and your teeth. We will take a complete set of digital X-rays during your initial appointment, as well as photographs of the inside of your mouth using an intraoral camera. Our digital X-rays and intraoral photos are quick, require no development chemicals, and can be saved in your records to help diagnose your dental health in the future. Additionally, with digital V-rays, there is 90 percent less radiation than with conventional X-ray machines. We can also provide a more detailed diagnosis with these images, which are generally more crisp and clear than X-ray machines of the past. We've also recently integrated a "digital pano" into our practice, which can create a continuous X-ray of your jaw from one side of your mouth to the other. During your initial appointment, we will also discuss your medical and dental history, including which medications you are taking, past dental or orthodontic treatments you may have had, and any current pain or concerns. We will also conduct an oral cancer screening. For your comfort, sedation dentistry and IV sedation is available by appointment. On your second visit, one of our skilled hygienists will clean and polish your teeth, inspecting them for any signs of disease. Before you go, we'll make sure that you know how to properly brush, floss, and care for your teeth at home. We also provide treatment for bruxism (grinding) and snore guards for minor sleep apnea and snoring.
Family Care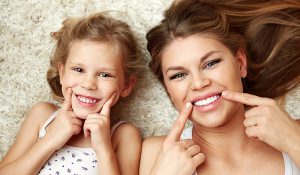 Designer Smiles welcomes patients of all ages to our practice, and we are focused on providing exceptional pediatric dental care in addition to our state-of-the-art treatments geared toward older patients. We offer a number of procedures designed to prevent future dental problems as well as take care of issues that may have arisen with your child's teeth and gums. Our dentists do everything they can to make our younger patients feel as comfortable and anxiety-free as possible. From dental sealants to fillings to fluoride treatments and other effective procedures, Designer Smiles hopes to keep every member of your family smiling brightly with healthy teeth and gums for years to come!
Absolutely one of the BEST dental offices I have been at. Fantastic customer service!!! My Husband and I both had our routine 6 month teeth cleanings and I went back for a filling that was needed. Dr. Ann gives wonderful painless injections and her fillings are beautiful. I would refer anyone and everyone I know looking for a dentist to this office.

Allison Soileau

May 20, 2017

12345
Oral Exams
An oral exam is part of a routine dental checkup, and serves as a quick way for us to see how your teeth and gums are doing and detect any potential problems. Early detection of dental issues can lead to treatment that can help prevent minor problems from turning into major ones in the future. Our dentists typically recommend at least two oral exams each year to maintain good dental health.
Oral Cancer Screening
Routine oral cancer screenings are vital to detecting possibly cancerous or pre-cancerous abnormalities. The Oral Cancer Foundation estimates that a person dies from oral cancer every hour of each day. However, early detection has shown to have an 80 to 90% survival rate. Designer Smiles can give you these potentially life-saving screenings to make sure any problems are found as early as possible.
TMJ Disorder Treatments
TMJ disorders affect the temporomandibular joint, which aids in proper jaw and lower mouth movement. As such, TMD can make daily activities like eating, speaking, and yawning feel needlessly painful and daunting. At Designer Smiles, we proudly offer several TMD treatments, including Armour Performance Mouthwear™ and BOTOX® injections. If you suspect you are suffering from TMJ disorder and would like to explore treatment options, we encourage you to contact our team.
Digital X-Rays
Digital X-rays hold huge advantages over traditional X-ray methods. With the use of a small camera, images of your teeth and gums are relayed to a computer screen, allowing you and our dentists here at Designer Smiles to review them almost immediately. The pictures are high-quality and extremely clear, and best of all, digital X-rays have been shown to reduce radiation exposure by almost 90%. This technology makes it possible to take pictures of your teeth and gums in a much safer way.

Digital Photography
Designer Smiles employs the latest in digital photography and computer imaging to give our patients an idea of what results of their dental procedures can look like. We can show you the potential results of porcelain veneers, teeth whitening, and other treatments that can help you in deciding which procedure would be best for your needs. Innovative digital photography at our practice is very useful for getting a general idea of how your new smile can look before you even have treatment.
Bite Alignment Analysis with T-Scan®
The alignment of your bite, also referred to as dental occlusion, is a major contributor to optimal oral health. In fact, bite misalignments can lead to jaw soreness, loosening of teeth, tooth fractures, damage to restorations, headaches, and a number of other issues when left untreated. At Designer Smiles, our cosmetic dentists utilize a state-of-the-art bite analysis device called T-Scan® to evaluate dental occlusion. Developed by Tekscan®, T-Scan® enables patients to bite down on a specialized sensor that identifies which teeth come together, where they touch, and how long they remain in contact with one another when opening and closing the jaw. The system also measures how much pressure and force is being applied by particular teeth at the point of contact. All this information is instantaneously transmitted to a digital chairside display that allows patients to see exactly how their teeth align and what improvements, if any, can be made. Using the real-time analysis provided by T-Scan®, our dentists can more precisely measure your dental occlusion as well as better understand how to alter your bite if necessary. Should occlusal treatment be recommended, this innovative technology can ultimately help improve the efficiency, accuracy, and reliability of your care.
Sealants
Dental sealants are excellent preventative measures for children to avoid tooth decay before it starts. Made of plastic composite material, sealants are typically placed over the chewing surfaces of the back teeth, protecting against bacteria that can ultimately cause cavities and decay. Sealants can sometimes last for a lifetime and help to avoid further dental problems down the road.
Fluoride Treatments
Fluoride treatments are just as important in adulthood as they are in elementary school. Helping to fight cavities and stave off tooth decay, fluoride treatments after a routine teeth cleaning can help you maintain the health of your teeth and gums.
Night Guards and Sports Guards
Grinding or clenching your teeth is a common problem during sleep. Fortunately, night guards can offer protection against damaging the teeth from consistent grinding. Although night guards won't prevent the actual clenching or grinding of the teeth, they can go a long way in reducing the wear and tear that can result from it.
Custom Under Armour Performance Mouthwear™
A new sportguard designed to protect your teeth may also enhance your athletic abilities, and it's available right here at Designer Smiles. Under Armour Performance Mouthwear™ with ArmourBite™ technology is a custom mouthguard designed for people who engage in an array of activities, including contact sports such as hockey and football, as well as non-contact sports like baseball, golf, running, training, and even Yoga and Pilates. This new and innovative custom mouthpiece can help athletes avoid serious damage to their teeth, as well as the development of TMJ disorder. Under Armour Performance Mouthwear™ with ArmourBite™ technology prevents what commonly occurs to those who participate in sports – teeth clenching – and works to pivot the jaw forward. This action relieves pressure on the temporomandibular joint and protects the teeth from damage. But Under Armour Performance Mouthwear™ with ArmourBite™ technology does something more: it lessens the release of hormones that can cause distraction and fatigue, which can speed up reaction time, reduce stress, and reduce the impact from blows to the jaw. The patented technology is custom-made for your mouth so that you have a comfortable fit. We'll take an impression of your teeth here at Designer Smiles, ship it off to a lab to make the sportguard, and then give you a final fitting at our office. For more information on Under Armour Performance Mouthwear™ with ArmourBite™ technology, please contact Designer Smiles today.