What Is All-on-4®?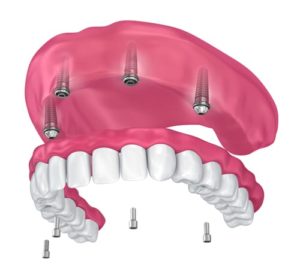 All-on-Four is a revolutionary implant denture treatment option that combines dental implants with a prosthesis replacing all of the teeth missing in a dental arch. We don't like it when people use the term "All-on-4 dentures" because that may give the wrong impression. All-on-4 prosthetics are not removable. Your dentist is the one responsible for attaching them to the dental implants and removing them once a year for cleaning and evaluation.
The phrase "All-on-4" denotes all of the teeth in a dental arch supported on four dental implants in the jawbone. The "all" does not mean both upper and lower teeth at the same time. It means either all of the upper teeth or all of the lower teeth, but not both.
What Are the Benefits of All-on-4® Dental Implants?
All-on-Four prosthetics provide many advantages over other teeth replacement options. These advantages result from both the implants strong attachment to the jawbone, and the prosthetic teeth's screw-retained connection to the dental implants. By transmitting chewing forces into the jawbone instead of onto outer gum tissues, All-on-4 produces more natural chewing than other "dentures". Being affixed by screws into the dental implants means there is never any looseness. These characteristics combine to make a teeth replacement option that provides:
More natural cosmetic appearance
No embarrassing looseness when eating, speaking, or laughing
No sore spots from frictional rubbing of a loose denture
Improved speech patterns
Better chewing ability
Only removed yearly by dentist for cleaning and maintenance, not nightly like other removable options
All-on-Four also provides the option for some patients to receive their "teeth" the same day of the dental implant surgery. This requires planning, imaging, measurements, and work with a certified dental lab prior to the surgery.
What Should I Expect During the All-on-4® Procedure?
Once all of the appropriate planning and fabrication of your prosthesis has been completed, your doctor will schedule your All-on-4 procedure. The procedure will include multiple phases, and you can elect to sleep through them all. At Designer Smiles, we offer several sedation options, including IV sedation, which keeps you comfortable and unaware throughout the entire process.
The procedure includes the removal (extraction) of any remaining teeth in the arch, the precise placement of the four (or more) dental implants, and the attachment of the prosthetic teeth. If you opt to go without sedation, your doctor will anesthetize (numb) the surgical site so that you feel no pain throughout the treatment time.
After the procedure is complete, you can expect moderate pain that your doctor will help you manage with medication. You should also expect a significant adjustment period that includes a diet of soft foods only until the implants lock firmly into the jawbone.
Upper Arch Replacement vs. Lower Arch Replacement
There is a slight variation in the position and angulation of the four or more dental implants for the upper arch (maxilla) versus the lower arch (mandible). In general, as the patient, you will not experience anything different between the two.
Full Mouth Restoration
We often restore an entire mouth full of missing teeth with All-on-4 implants. At a minimum, a full mouth restoration includes eight implants, and when possible, even more than that. Our goal in restoring your entire mouth with dental implants is ultimate comfort and function.
What is All-on-6—How Do I Know Which to Choose?
You may come across a similar term in your research called "all-on-6" and wonder what the difference is. The difference is simply in the number of dental implants used to support the prosthetic teeth. At Designer Smiles, we do not want our patients to choose fewer implants to save money when placing more would give a better long-term result. For that reason, we do not charge by the number of implants, but instead by the overall treatment plan. Our doctors determine the optimal number of dental implants based on the quality and quantity of bone available.
How Much Do All-on-4® Dental Implants Cost?
In general, All-on-4 will range from $15,000 to $25,000 per dental arch. The total cost of All-on-4 treatment varies based on several factors: the number of teeth needing extraction, various sedation options, the planning with imaging and measurements, and the prosthetic teeth themselves.
Contact Designer Smiles to schedule your All-on-4 consultation with one of our experienced dentists!