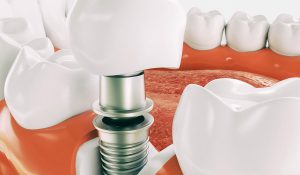 Mini-dental implants can often be an excellent solution for stabilizing partial or full dentures that tend to slip and move around as you eat, talk, or even smile. Typically inserted into the jaw bone adjacent to natural, healthy teeth, mini-dental implants aid in retention and help decrease the amount of unwanted movement of the denture or partial. Additionally, they are cost-effective and can often be placed along the jawline of patients who have been told they do not have enough bone for full dental implants.
At Designer Smiles, Houston cosmetic dentist Ann Haggard, DDS has extensive training and experience in placing mini-dental implants right here in the comfort of our office. With mini-dental implants providing support and stabilization for your set of dentures, you may be able to chew, speak, and smile with confidence once again.
Mini-Dental Implant Benefits
Mini-dental implants are secured along the jaw bone to aid surrounding teeth in the support of full or partial dentures. In addition to improving both the comfort and function of loose dentures, mini-dental implants can provide a number of other distinct benefits, some of which may include:
No need for oral glues or cements
Prevention of side-to-side denture movement
A broader range of candidacy compared to alternative methods
Ability to load and use dentures immediately
Little to no healing time required after the procedure
Less expensive than regular dental implants
Ultimately, mini-dental implants can provide long-term stabilization for upper and/or lower sets of dentures in as little as one visit to our office.
Great group of people ill recommend this place anytime of the day….very professional

Alberto Djberdman Ortega

January 29, 2014

12345
The Mini-Dental Implant Procedure
During the mini-dental implant procedure, tiny titanium posts designed to mimic natural tooth roots are inserted into your jaw bone based on the location and level of support necessary for your dentures. Once implanted, your partial or full dentures will be snapped into place over top of each post, thereby reducing the chance for slippage and/or looseness. The entire procedure can often be performed in-office with little to no healing time necessary. Additionally, your dentures, now supported by mini-implants, will generally be ready for immediate use.
If you currently have a set of full or partial dentures that consistently slip and move out of place, mini-dental implants may be a great option to help provide the security and stability you desire for your smile.
For more information, or to find out if you are a good candidate for mini-dental implants, please contact Designer Smiles today.