Houston Dentist Rejuvenates Smiles for Brides and Grooms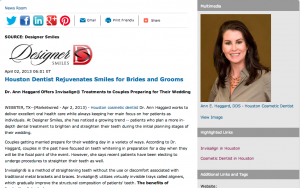 Dr. Ann Haggard offers Invisalign® treatments to couples preparing for their wedding
Webster, TX – Houston cosmetic dentist Dr. Ann Haggard works to deliver excellent oral health care while always keeping her main focus on her patients as individuals. At Designer Smiles, she has noticed a growing trend – patients who plan a more in-depth dental treatment to brighten and straighten their teeth during the initial planning stages of their wedding.
Couples getting married prepare for their wedding day in a variety of ways. According to Dr. Haggard, couples in the past have focused on teeth whitening in preparation for a day when they will be the focal point of the event. However, she says recent patients have been electing to undergo procedures to straighten their teeth as well.
Invisalign® is a method of straightening teeth without the use or discomfort associated with traditional metal brackets and braces. Invisalign® utilizes virtually invisible trays called aligners, which gradually improve the structural composition of patients' teeth. The benefits of Invisalign® include:
-Straightening teeth
-Filling tooth gaps
-Easier maintenance
-Less discomfort
While whitening treatments can certainly enhance smiles and make a couple's wedding pictures stand out in the short term, Invisalign® offers Houston cosmetic dentistry patients a chance to not only improve their smiles for their wedding, but permanently correct the position of their teeth.
Dr. Haggard emphasizes that the benefits of Invisalign® go beyond the cosmetic. In addition to providing a discreet way to dramatically improve smiles without the pain and annoyance of braces, Invisalign® trays are removable. Because these clear aligners are removable, patients are able to eat, drink, brush, and floss as they normally would without the intrusion of metal brackets and braces. The ability to remove the aligners allows for more thorough cleaning and an overall healthier mouth while the patient's teeth are undergoing treatment.
Designer Smiles frequently features its Invisalign® treatments in wedding magazines as an option for couples to consider when planning their special day. Dr. Haggard views Invisalign® not only as a way to boost the couple's self-confidence on their wedding day and capture their new smiles in a photograph, but also as a way for their patients to invest in their futures.
About Ann E. Haggard, DDS
Dr. Ann Haggard is a graduate of Centenary College of Louisiana. She earned her dental degree at Texas A & M Baylor College of Dentistry and while studying there, belonged to the Delta Sigma Delta Professional Dental Fraternity. Dr. Haggard has also won an award for outstanding achievement in periodontics. She is available for interview upon request.