Houston Dentists Join ADA in Promoting National Children's Dental Health Month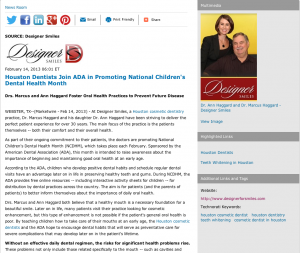 Drs. Marcus and Ann Haggard foster oral health practices to prevent future disease

Webster, TX – At Designer Smiles, a Houston cosmetic dentistry practice, Dr. Marcus Haggard and his daughter Dr. Ann Haggard have been striving to deliver the perfect patient experience for over 30 years. The main focus of the practice is the patients themselves – both their comfort and their overall health.
As part of their ongoing commitment to their patients, the doctors are promoting National Children's Dental Health Month (NCDHM), which takes place each February. Sponsored by the American Dental Association (ADA), this month is intended to raise awareness about the importance of beginning and maintaining good oral health at an early age.
According to the ADA, children who develop positive dental habits and schedule regular dental visits have an advantage later on in life in preserving healthy teeth and gums. During NCDHM, the ADA provides free online resources – including interactive activity sheets for children – for distribution by dental practices across the country. The aim is for patients (and the parents of patients) to better inform themselves about the importance of daily oral health.
Drs. Marcus and Ann Haggard both believe that a healthy mouth is a necessary foundation for a beautiful smile. Later on in life, many patients visit their practice looking for cosmetic enhancement, but this type of enhancement is not possible if the patient's general oral health is poor. By teaching children how to take care of their mouths at an early age, the Houston cosmetic dentists and the ADA hope to encourage dental habits that will serve as preventative care for severe complications that may develop later on in the patient's lifetime.
Without an effective daily dental regimen, the risks for significant health problems rise. These problems not only include those related specifically to the mouth – such as cavities and gingivitis – but also diabetes and heart disease. Drs. Ann and Marcus Haggard believe that oral health is an important component to patients' overall well-being because disease in the mouth can lead to disease in other parts of the body as well. For this reason, the doctors encourage their patients at Designer Smiles to begin the practice of good oral health at an early age.
About Marcus D. Haggard, DDS
Dr. Marcus Haggard earned his dental degree at the University of Texas. He has attended postgraduate programs including those at the Pankey Institute in Florida and the Boston Institute for Advanced Dental Studies. Dr. Marcus Haggard has served as the Ethics and Jurisprudence Chairman and has been honored with a place on the Peer Review Committee. He is experienced in performing a variety of procedures including teeth whitening, porcelain veneers and Invisalign®. Dr. Haggard is available for interview upon request.
About Ann E. Haggard, DDS
Dr. Ann Haggard is a graduate of Centenary College of Louisiana and earned her dental degree at Texas A & M Baylor College of Dentistry. While at Texas A & M, she belonged to the Delta Sigma Delta Professional Dental Fraternity and won an award for outstanding achievement in periodontics. Dr. Haggard is available for interview upon request.