Patient Appreciation Day 2015 at Designer Smiles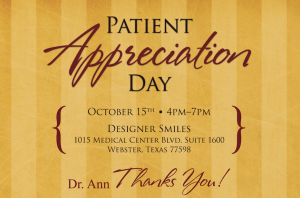 Our Designer Smiles Patient Appreciation Day on October 15th was a tremendous success! It is important to us that our patients know just how much we appreciate them and this celebration, which occurs biennially, is our way to give back. It was our pleasure to host a free fun-filled evening complete with food, drinks, prizes, and all sorts of activities for our patients and their friends and families to enjoy.
Highlights of the Evening
Delicious food and wine for everyone.
Dr. Ann Haggard called out the winners of our raffle prizes, which included three huge gift baskets with "Texas", "Beer," and "Wine" themes; a $100 gift certificate to Oasis Spas; and six car wash gift certificates to Splish Splash of Webster.
Party-goers relaxed their tense muscles with free chair massages.
Professional glamour shots complete with makeup and hair styling. We love to see our patients smile!
Meeting patients' friends and families and having them tour our offices to see first hand what makes our practice so special. We now have five new patients!
Patients generously shared testimonials about their experiences at our practice which will soon be added to our website.
Thank you to all who could join us. For those of you who missed out, we hope you can make it to our next Patient Appreciation Day! We look forward to seeing all of you at our office soon.
If you want to learn more about becoming a patient at our practice please contact us today. We look forward to meeting you!