Am I a Good Candidate for Dental Implants?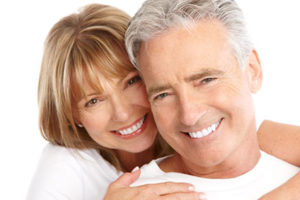 A missing tooth can turn out to be much more than merely a cosmetic concern. If you have one or more missing teeth, you may have an increased risk for more serious dental problems, including crowding of the teeth or additional tooth loss. Dental implants are an advanced method of tooth replacement that can offer a more durable, comfortable, and long-lasting solution than traditional bridges or dentures.
The dental implant procedure begins with a small titanium post placed in the missing tooth location. This post serves as an artificial root that will eventually fuse with the jawbone to provide excellent stability. Once this post is firmly in place, your custom-made porcelain tooth replacement can be affixed, restoring full function to your mouth and giving your smile a natural, beautiful appearance.
At Designer Smiles, we have had patients of all ages benefit from dental implants. If you have lost one or more teeth due to injury, decay, or disease, dental implants may be right for you. Many of our patients use dental implants as an alternative to traditional dentures when they desire a more comfortable fit and no longer wish to deal with messy, inconvenient adhesives. Ideal candidates for dental implants will have sufficient jawbone density to support the implant. However, candidacy for dental implants will vary from patient to patient, and a thorough oral exam performed by your dentist will be needed to discover if this popular solution for missing teeth is your best option.
Contact Our Office
For more information about dental implants, or to schedule a consultation to determine your candidacy, please contact us today.