What Is the Best Way to Replace Missing Teeth?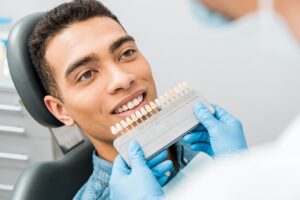 Missing teeth can affect the aesthetic appearance and functionality of your smile, which can damper your self-esteem and result in a decline in your oral health. By addressing unwanted gaps with a variety of tooth replacement options, patients can benefit their smile with natural-looking results, restored bite alignment, and dependable dental improvements.
At Designer Smiles, our cosmetic dentists recognize the importance of having confidence in your smile. Along with the latest techniques and methods, our team offers top care and treatment plans designed to target specific patient needs and goals. Tooth replacement options available at Designer Smiles include:
Dental implants – A popular oral restoration, dental implants have been known to revitalize a patient's smile with natural-looking, long-lasting results. The process includes a newly crafted crown attached to titanium posts, which are anchored into the jawbone. This technique can be a durable and trusted alternative to removable dentures. Dental implants can also improve the functionality of a patient's mouth and preserve jawbone integrity.
Implant-supported dentures – By combining traditional dentures and secure dental implants, implant-supported dentures can offer a dependable tooth replacement option. Dentures are connected to dental implants and can replace full rows of missing teeth. An interlocking attachment can keep the restorative feature from unexpectedly falling out, but still allows the dentures to be removed when desired.
All-on-4® – The All-on-4® implant-supported denture technique involves four dental implants inserted into the jawbone to support a full-arch prosthesis. All-on-4® can improve chewing abilities, provide a natural look, and only needs to be removed yearly, instead of nightly, for cleaning and maintenance. The strong attachment to the jawbone can make it a reliable approach, and prevents uncomfortable rubbing or looseness . An additional option is the All-on-6 technique, which instead involves six dental implants for added support.
For more information on tooth replacement options, contact our office to schedule a consultation.