Is Invisalign® Treatment Faster Than Traditional Braces?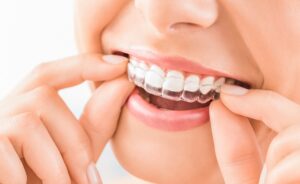 A popular dental treatment, Invisalign® can straighten a crooked smile, reduce gaps between teeth, and space out tooth crowding. The clear plastic aligners can address small necessary adjustments or significant concerns with gradual movement while remaining conveniently removable for eating, drinking, and teeth cleaning. 
A common comparison is often made between Invisalign® and traditional metal braces. Both are designed to straighten out misaligned teeth and provide patients with a beautifully revitalized smile. Many patients opt for the removable treatment for a variety of reasons, including: 
Clear and less noticeable appearance 
Wire braces may cause lip, tongue, and cheek irritation 
No tooth enamel damage caused by cement 
Ability to maintain regular oral hygiene without obstruction
Ability to eat favorite foods without restrictions 
While the Invisalign® timeline varies from patient to patient, the dental treatment typically lasts between 9 to 15 months. Factors that may contribute to the overall time include the severity of misalignment and consistency of wear. While the time needed for traditional braces also varies by patient, the treatment typically lasts longer than Invisalign®, potentially up to a few years. 
At Designer Smiles, Dr. Ann Haggard and Dr. Lauren Eichblatt are dedicated to providing patients with a bright and beautiful smile. Dr. Haggard is an Invisalign® Elite Provider, meaning she's completed over 300 Invisalign® cases and continues to treat a minimum of 50 cases every six months. For more information about Invisalign® treatments, contact our office to schedule a consultation.