Top Eight Things to Know Before a Smile Makeover
At Designer Smiles, there is nothing we do better than a smile makeover.  Whether you are straightening your teeth with Invisalign, creating a new smile with porcelain veneers, or rebuilding lost teeth with dental implants, we are the experts.  As with any significant investment, it is prudent to do a little research before moving forward.  This blog contains important things you need to know before you proceed with a smile makeover.
Your Choice of Dentist Matters!
Not every dentist excels in cosmetic dentistry and smile makeovers.  This is not to say that dentists who do are better dentists.  Some simply choose not to focus their education and efforts in this direction.
It is important, when choosing a dentist to perform your smile makeover, to research your choices thoroughly.  A dentist who creates exceptionally beautiful smiles will make sure her website reflects that fact.  Look for showcases of before and after photos.  See if the dentist participates in cosmetic dental continuing education and professional associations like the American Academy of Cosmetic Dentistry.  Read reviews from former patients.  These things show that this dentist does indeed focus on cosmetic dentistry.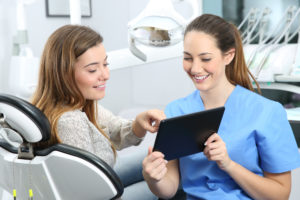 After choosing a skilled cosmetic dentist, the second most important factor in a great smile makeover is communication!  What each person visualizes in his or her own mind as "beautiful" is unique and may differ from the opinions of others.  In order for a dentist to meet your expectations, you must communicate those desires clearly.
This may involve looking through and analyzing lots of photos to detail specific smile traits that you love and others that you dislike.  This provides your dentist with invaluable information about your preferences and specific smile goals.
For example, many people want perfectly straight, white teeth in a smile makeover.  Others prefer a more natural look and request things like a small gap between the front teeth or a less-white natural color of teeth.
The bottom line is that once we know what you want, we can deliver!
A Smile Makeover Can Make You Look Younger.
Many people are amazed at the change in overall appearance that is accomplished by a smile makeover.  Changes to the teeth can make you look younger!  By changing the shape, color, and position of the teeth with a smile makeover, we can actually fill out deep lines in the lips and cheeks and cause you to show more teeth when you speak and smile.
"Old" teeth in general look yellow, short and flat.  We can change that with porcelain veneers.
A Beautiful Smile is One that Fits YOU!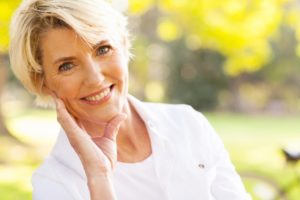 Our faces differ in shape, size, and color, and so should our teeth.  A one-size-fits-all approach to teeth will lead to obviously-fake smiles.  No one wants to invest thousands of dollars in a smile makeover only to end up with what many call "Chiclets" for teeth.  You can imagine that very large teeth would look foolish in a small, delicately built woman, as would dainty, curved teeth in a large man.
At Designer Smiles, we custom plan each smile makeover.  We use measurements of your facial structures, the subtle shading of your skin tone, and your overall size to determine the most beautiful and most natural smile for you.
Ask to See Samples of Completed Smile Makeovers.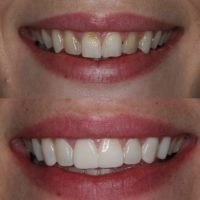 Most cosmetic dentists maintain a portfolio of cases they have completed.  By looking through images of their previous work, you can see the diversity they can create with smile makeovers.  You want to choose a dentist whose cases do not all look the same.  If you see a smile you particularly do not like, ask the dentist about it.  It may be that the patient insisted on an unnatural appearance to their smile, and the dentist complied with his or her wishes.  Again, communication is key.
Getting a Preview Can Help You Make Your Decision.
At Designer Smiles, we are thrilled to offer our smile makeover patients a preview called a "trial smile".  When considering cosmetic dentistry with porcelain veneers, we are able to try-on the proposed shape, size and color, giving you a real-time view of what your smile and entire face could look like with the makeover.
With advances in three-dimensional imaging technology, we are also able to produce digital previews for teeth straightening with Invisalign.
Your Dentist's Choice of Dental Lab Matters!
When a smile makeover involves anything made with porcelain, the final result is not dependent on your dentist alone.  It is actually a collaboration between your dentist and the dental lab technician she chooses to create the restorations.  Unfortunately, in this day and age of connectivity and worldwide trade, everything is available in a cheaper model, usually sold on the internet.  The same is true in dentistry.  It is possible to get extremely cheap dental restorations made overseas.  These inexpensive labs do not create high quality cosmetic dentistry.
Using a dental lab technician certified in the U.S. with many years of experience in the creation of exquisite porcelain work is of the utmost importance.  At Designer Smiles, we are extremely proud of the collaboration we have with our dental lab technician.  Click here to read more about why this partnership leads to the best outcome for our patients!
After investing in a smile makeover and finally receiving your new, beautiful smile, it is absolutely essential that you understand and cooperate with the need for maintenance.  This applies to all manner of makeover, including Invisalign, porcelain veneers, and dental implant restorations.  When you move teeth, they can move back.  Porcelain is brittle, and it can break.  Your dentist will give you very detailed instructions on how to maintain and protect your investment.  Complying with the recommended retainers and mouthguards will keep you smiling beautifully for years to come!
More Questions about Smile Makeovers?
Call Designer Smiles to schedule a consultation with Dr. Ann and Dr. Lauren.  Peruse through our website to see our cosmetic cases with before and after photos and video testimonials of very happy patients!