Trial Smiles: A Way to Try On Veneers Before You Commit
At Designer Smiles, we create hundreds of beautiful smiles every year using porcelain veneers.  With veneers we can "fix" all sorts of dental problems that cause you to hide your smile.  Because this is an important investment, we understand the many questions that may come with your consideration of cosmetic dentistry.
You know that phrase, "A picture is worth a thousand words"?  We believe that phrase is never more true than when it is applied to your smile.  Rather than tell you what kind of changes we can make in a smile with porcelain veneers, which could lead to a  misunderstanding or some major confusion, we prefer to just show you.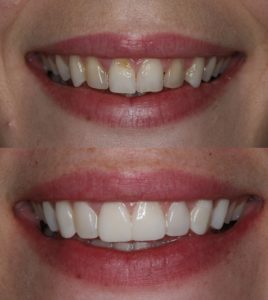 What is a Trial Smile?
As the name implies, a Trial Smile is a way for you to try out the proposed changes veneers could make to your smile before you commit to the veneers themselves.  The Trial Smile material is a tooth-colored type of plastic made in a prescribed shape, size and color by a dental lab according to Dr. Ann and Dr. Lauren's detailed instructions.  The Trial Smile itself is temporary attached to your teeth, allowing you to smile, speak, take selfies, and see what your face would look like when it contains a new smile.
How Does a Trial Smile Work?
In order to try on a Trial Smile, your first step is a cosmetic consultation visit with Dr. Ann and Dr. Lauren.  During this visit, communication is key.  Make sure you describe in detail all of the things you dislike about your current smile.  If possible, bring photos of smiles you consider attractive.  Once you and the doctor agree on the changes necessary to give you the smile you want, then we will gather specific information about your teeth, bite, smile and facial structure.  This may involve measurements, molds, photos, and a three-dimensional scan of your teeth.
The information that we gather goes to our award-winning dental lab technician, who creates all of our beautiful Trial Smiles.  He uses this information to create the best shape, size, and color for your desired smile goals.
Your second visit is when the magic happens.  Once we attach (temporarily) the Trial Smile over your teeth, we will take photos and videos so that you can closely evaluate the way the "new" teeth look and feel.  You may have feedback on the Trial Smile immediately, or you may need to closely scrutinize your photos and videos before you know of any changes that you'd like to make in the final veneers.

Can I Wear the Trial Smile Out of the Office?
Unfortunately, no. Because they are very delicate and only attached temporarily, technically it could pose a choking hazard.  Due to that liability, we cannot allow you to leave with the Trial Smile on your teeth.
We do, however, want you to bring a trusted loved one (you know, that person who will be brutally honest with you) to the appointment.  They will be able to give unbiased feedback on the changes the new smile would make in your overall appearance.
Can I Make Changes to my Trial Smile?
Yes!
Because the Trial Smile is adjustable, it gives us the perfect opportunity to reshape the teeth to meet your specifications.  We may make changes at the initial visit, or we may recommend that you wear the trial smile for a bit longer in order to give yourself time to get accustomed to any drastic changes.  For instance, if the changes involve making certain teeth wider or longer, the Trial Smile will probably feel way too big in your mouth at first.  Even a change as small as one millimeter can feel enormous when it comes to your teeth.
There are various shapes of teeth that give a masculine or feminine appearance to the smile.  Certain teeth contours imply youthfulness while others suggest a more mature smile.  Dr. Ann and Dr. Lauren are experts at smile design and can create the look you are going for.

How Much Does a Trial Smile Cost?
The fee for a Trial Smile is $250.  This cost is a small fraction of the costs of investing in a new smile with porcelain veneers.  It is the best way to feel confident about your decision, having a firm grasp of what your new smile will look like, how it will affect the appearance of your face, and how much younger you will look.
Interested in a Trial Smile?
Call Designer Smiles today to schedule a cosmetic consultation with Dr. Ann and Dr. Lauren.  They can answer all of your questions about how the Trial Smile works and help you get started with a beautiful new smile.