Importance of the Dental Lab in Cosmetic Dentistry Results
The Importance of a Smile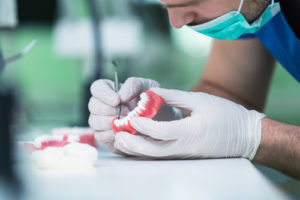 With a name like Designer Smiles, we hope it is obvious that we love creating beautiful smiles!  We believe wholeheartedly that there is little in life more rewarding than giving another person the ability to smile with confidence.  For that person, it is literally life changing.  A warm, engaging smile improves self-esteem, generates positive social interactions, and increases hireability.
Smiles break down barriers and improve communication.  Smiles impart a sense of acceptance and friendliness that even speaking to someone cannot.  Research studies have shown that smiles are consistently in the top two things someone notices first when he or she meets someone new (it shares the top with eyes or eye contact).
The Importance of Cosmetic Dentistry
Many people do not like their smiles.  They may have old dental work that is glaringly obvious and unsightly.  Some people are missing teeth and hate showing a "gap" when they smile.  We have patients that are in the process of fighting cavities and gum disease, neither of which are pretty.
When someone does not like his or her smile, the opposite effects are noticed: lower self-esteem, negative social interactions, less likely to be hired, introversion or unfriendliness.  Other people perceive someone as angry or unhappy, when in fact, they just do not have the confidence to smile brightly.
Our goal at Designer Smiles is for every patient to have a completely healthy mouth and a smile that they are proud to show off!
Cosmetic dentistry improves the appearance of your smile by creating unique, natural looking teeth customized for your facial features, your skin tone, and your desires.  A dentist who makes all smiles look just alike is not a cosmetic dentist at all.
Being a great cosmetic dentist takes talent, time, experience, education, and one more very important thing: a great dental lab.
The Importance of the Dental Lab
Most dental restorations are not made in your dental office by your dentist.  It takes a certified dental lab technician to produce the very best dental work.  Why?  Your dentist is working in a very constrained environment: your mouth.  Your teeth are surrounded by strong muscles in the cheeks, lips, and tongue and constantly bathed in saliva.
Your dental lab technician works in a clean, dry environment with no muscular interference on an exact replica of your teeth.  This enables him to create beautiful, perfect crowns and veneers with precision.
Just as some dentists are superior to others, so are dental lab technicians.  And we work with the very best!
The Superiority of OUR Dental Lab
Dr. Ann has been working with Wayne Payne and the Payne Dental Lab for over 7 years.  In her 14 years at Designer Smiles, she has done many cosmetic dentistry cases, and she worked with multiple dental labs.  Now there is only one.
Dr. Ann connected with Payne Dental Lab through the American Academy of Cosmetic Dentistry.  The AACD is an elite organization that promotes education for cosmetic dentistry and provides resources for dentists.  One of the unique factors of the AACD is their accreditation process, not just for dentists, but also for dental labs.  A certified dental lab technician accredited by the AACD undergoes a rigorous testing process to prove that he or she is capable of meeting the highest cosmetic standards in the dental realm.
Wayne Payne is one of the few dental lab technicians accredited by the AACD, and his product makes this fact obvious.  He became a certified dental technician in 1975 and then opened his own dental lab in 1977.  Wayne is a self-proclaimed science nerd and has been involved in the development of new dental materials.  For over 40 years, he has been creating beautiful dental work for countless happy dentists and even happier patients.
The key to Wayne's success with dentists is great communication.  Wayne has not only continued his education in courses for dental lab technicians; he takes the same courses his dentists take.  By understanding the dentist's side of the case, with its complications and limitations, he is better able to communicate.  By understanding complicating factors like bite problems, he is able to intercept obstacles before they turn such realities as fractured crowns or veneers that crack or break off the tooth. Form follows function.  What good is a beautiful smile if you cannot chew?  Or if the veneers chip and break?
This type of insight is invaluable to both the dentist and the patient.  His higher level of education truly sets him apart.
Wayne has experience creating beautiful smiles for everyone from movie stars to your average joes, from millionaires to battered women living in a shelter.  Every bit of it is rewarding.  Hearing from a dentist that the patient cried when seeing her new smile for the first time reinforces his desire to work with diligence and excellence.
What Our Lab Says About Designer Smiles
Because Wayne has worked with countless dentists over the last 40 years, he has an important and valuable perspective on what makes a cosmetic dentist great.  From all of the relationships he has built with dentists in the past, he has learned that there are two important traits that are absolutely essential in a great cosmetic dentist, and we've got them both.
Natural Ability – Some dentists just have an inherent talent with their hands. Ann Haggard is one of these dentists.  Maybe she inherited it from her father, Dr. Marcus Haggard.  Maybe it is just God-given skill.  It doesn't matter.  She's got it.
A Teachable Spirit – Both Dr. Ann and Dr. Lauren have an insatiable thirst for continuing education in dentistry. They desire to learn and grow and continually evolve into the very best in dentistry.  Being teachable is not just about a desire to learn.  It also involves an important lack of ego.  Dentists must put aside pride in order to realize that there is always more to learn about any given subject.  The minute you think you know it all is the minute you stop learning.  We are so grateful for this teachable spirit in our doctors at Designer Smiles.
Are You Interested in Cosmetic Dentistry?
Call us today at 281-667-4010 to schedule a cosmetic dentistry consultation with Dr. Ann and Dr. Lauren!