Is It Safe to Go to the Dentist?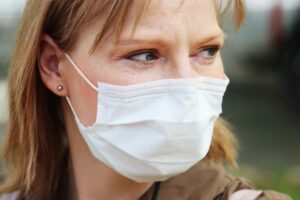 The unprecedented COVID-19 pandemic has caused many of us to reconsider following through with even the most mundane of tasks or appointments.  Concerns for your health and safety are reasonable when there is still much that is unknown about this virus.  You can rest assured that the team at Designer Smiles shares those concerns and is serious about the health and safety of both their patients and themselves!
How Can You Be Sure?
One of the most important reasons you can be assured of safety is this: those with the highest risk of getting the virus at the dental office are the dental team members themselves.  If we believe it is safe enough for us to come to work every day in order to care for our patients . . . if we believe that our protocols are keeping us safe . . . then you can trust that they are also keeping YOU safe.
Dr. Ann would not put her patients, her team members or herself at risk for COVID-19 infection.  Period.
What Are We Doing to Ensure Safety?
Back in May 2020, we instituted several new protocols to ensure the safety of our patients and our team members in the time of COVID.  After eight months of strictly following these protocols, we are confident that they work!  For this reason, we have not changed anything.
If it ain't broke . . . .
Pre-Treatment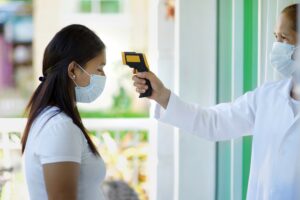 When it is time for your appointment, you will notice that our main doors remain closed.  We will admit one patient at a time to allow for proper distancing and privacy for the screening process.  We screen our patients with both questions about travel and symptoms and a temperature check.
The purpose of this screening is to prevent anyone who is potentially infected with COVID-19 from having a dental procedure.  An infected person would not be at risk (obviously, he or she is already infected with the virus), but it could place our team members and other patients at risk for transmission.
Prior to proceeding back to the patient's treatment room, we ask each patient to thoroughly wash their hands and use disposable, single-use pens to sign any necessary paperwork.  Anyone without a mask will be given one to wear while in our office.
During Treatment
Before your treatment begins, we will ask you to vigorously swish your mouth with a hydrogen peroxide rinse.  Studies show that this kills the majority of virus cells present in saliva.  This pre-treatment rinse greatly reduces the risk of viral particles spreading through the air during dental procedures.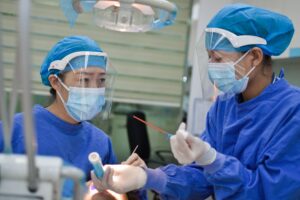 During your dental visit, you will notice that Dr. Ann, our hygienists and dental assistants are a little tough to spot.  That's because they are wearing much more personal protective equipment (PPE) than what you might be used to.  We continue to wear N95 masks instead of the traditional dental surgical masks, and we have added gowns and head coverings.  Again, all of this gear protects both our patients and ourselves.
You may also notice that there are a lot more plastic barriers all over the treatment room, as we are covering every surface possible.  This allows us to simply throw these barriers in the trash after each patient visit.
Between Treatments
We have added time between patient appointments to allow for increased disinfection of every treatment room.  All surfaces are thoroughly cleaned with virus-killing solutions.  After a patient leaves the room, we treat it with UV light.  Studies show that exposure to ultraviolet light sources kills viral particles in the air.
Behind the Scenes
We don't just screen our patients.  We apply the same requirements for entry into our office to our own team members.  We each answer the screening questions and submit to temperature checks every morning.  We also require any Designer Smiles employee to quarantine if exposed to someone who tests positive to coronavirus.
We have installed a top of the line air filtration system to continually clean the air in our office.  This ensures that there is no aerosol from our dental procedures hovering in the ambient air of our treatment rooms.  This is another important protective mechanism for both patients and staff.
Our team members take special care in the removal of PPE at the end of each day.  None of it leaves our office, so that we are not taking anything with us out into the community.
Why Going to the Dentist is Important
Many people mistakenly assume that it is safer to stay home, putting off their dental care, than to go to the dentist because of the risk of catching COVID-19.  This is a mistake because not only is the risk of coronavirus transmission minimal at the dental office; the risk of dental problems is much higher.
Avoiding the dentist puts you at risk for worsening dental diseases, which is far more likely than any danger of COVID-19.  It is always smart to weigh the risks versus benefits of any decision.  In this specific case, allowing your oral health to decline is more risky than getting COVID.  In fact, suffering from dental diseases can overtax your immune system and make it more difficult for your body to fight off viral infections.
Still Feeling Anxious about Seeing the Dentist?
Give us a call today and speak with one of our team members.  As we mentioned earlier, these women are placing themselves at a higher risk than our patients every day.  They can confidently assure you that it is safe to come to Designer Smiles and help you schedule a visit with Dr. Ann, Phyllis or Nancy.