An Environmentally Friendly Dental Office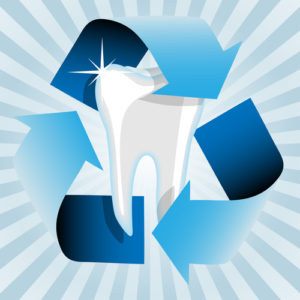 Earth Day is April 22!  Earth Day is a global event with the purpose of showing support for environmental protection.  Many environmental groups use Earth Day to promote changes in human behavior and influence governmental policy changes around the world.
Earth Day began in 1970 in the United States and was originally celebrated in schools and universities.  Since then, its observance has grown to over 190 countries, and now its prevalence is seen annually across news outlets and social media as a day of importance.
The theme of Earth Day 2018 is "End Plastic Pollution".  The Earth Day Network wants to provide both the information and the inspiration necessary to protect our earth from plastic pollution.
What Does This Have to Do with Dentistry?
At Designer Smiles, we are proud to be good stewards of our earth.  We have partnered with Colgate® and Terracycle® in order to reduce landfill waste and plastic pollution from oral hygiene products.
In this day and age, we are lucky to have a wide selection of products to choose from when it comes to keeping our teeth clean and healthy.  There are countless brands of toothpaste and toothbrushes in all shapes, colors and styles.  We have floss picks and traditional floss on a spool.  The possibilities are endless!  The problem is that almost all of the possibilities are made of plastic.
While we are so grateful for the variety of products available to help us meet our goals of great oral hygiene, we are aware of the environmental impact these plastic products have on our earth.  In performing our jobs to the best of our ability and educating our patients for their best oral health, we inadvertently encourage the use of large amounts of plastic products.  For this reason, we are excited to have a resource for recycling the products that we so constantly recommend.
What Does Terracycle® Do?
Once we send our collected used oral hygiene products in to Terracycle®, they separate the various waste products into different types of plastic.  Then they shred and melt each recyclable plastic into a new, hard plastic.  This hard plastic product is versatile!
Terracycle® makes many commonly used items from their recycled plastic, and they use over 97% of the waste collected in this process.  This means only 3% of the collected waste ends up in landfills or incinerators, keeping pollutants out of our air and drinking water sources!
To buy recycled products from Terracycle®, click here.
What Products Can I Recycle at Designer Smiles?
Terracycle® is currently accepting the following items for recycling.
Manual toothbrushes – They cannot currently accept electric toothbrushes or charging stands.
Toothbrush packaging
Toothpaste tubes emptied of all toothpaste – Please make sure to squeeze out any remaining toothpaste before donating.
Toothpaste boxes or other packaging
Floss containers – There should not be any floss remaining when you donate. If there is, use it!
What's In It For Me?
Two things:
The satisfaction that comes from doing the right thing! Recycling plastics whenever possible is the right thing to do.  It decreases waste in landfills, pollution from incineration of plastics, and protects wildlife from plastic waste.
Better oral hygiene! A new toothbrush removes plaque from your teeth much more efficiently than one that is 3 months old.  By replacing your toothbrush on a regular basis and recycling the old one, you are improving your own oral health!
How Can I Help?
Stop throwing away your oral hygiene products when you finish using them.  This includes the packaging of your new toothbrush, toothpaste and floss.
When you come to Designer Smiles for a professional teeth cleaning, we give you a new Colgate® or Oral B® toothbrush.  Bring your old toothbrush, any emptied toothpaste tubes, and all the packaging in to recycle at each cleaning appointment.
We have a collection box in our office where you can drop off your oral hygiene waste.
Want More Information about Recycling Your Oral Hygiene Products?
Call our office today at 281-317-0979.  Phyllis, one of our wonderful dental hygienists, has taken charge of this project.  She can answer any of your questions about recycling your used oral hygiene products and their packaging waste as easily as stopping by our office.