Webster Dentist Explains the Benefits of Porcelain Veneers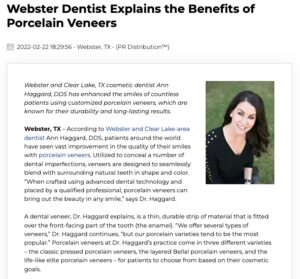 Webster and Clear Lake, TX cosmetic dentist Ann Haggard, DDS has enhanced the smiles of countless patients using customized porcelain veneers, which are known for their durability and long-lasting results.
Webster, TX – According to Webster and Clear Lake-area dentist Ann Haggard, DDS, patients around the world have seen vast improvement in the quality of their smiles with porcelain veneers. Utilized to conceal a number of dental imperfections, veneers are designed to seamlessly blend with surrounding natural teeth in shape and color. "When crafted using advanced dental technology and placed by a qualified professional, porcelain veneers can bring out the beauty in any smile," says Dr. Haggard.
A dental veneer, Dr. Haggard explains, is a thin, durable strip of material that is fitted over the front-facing part of the tooth (the enamel). "We offer several types of veneers," Dr. Haggard continues, "but our porcelain varieties tend to be the most popular." Porcelain veneers at Dr. Haggard's practice come in three different varieties – the classic pressed porcelain veneers, the layered Bella! porcelain veneers, and the life-like elite porcelain veneers – for patients to choose from based on their cosmetic goals.
According to Dr. Haggard, some of the primary benefits of porcelain veneers include:
The ability to mask chips, cracks, gaps, misalignment, discoloration, and more
A minimally-invasive process that typically only takes two visits
A generally long lifespan (provided the patient treats their veneers with the proper care)
Restored confidence in one's smile
Because her patients are typically so thrilled with the results of their porcelain veneers, Dr. Haggard says she often incorporates them into smile makeovers. She describes the smile makeover as a comprehensive cosmetic treatment to fully enhance the smile. "Porcelain veneers can be an amazing addition to the smile makeover for patients with at least semi-healthy bone density," she continues. "A lot of our patients wonder why they didn't get veneers a long time ago!"
Dr. Haggard encourages patients who are interested in porcelain veneers to conduct thorough research before deciding on a cosmetic dentist to perform their procedure. One of the best ways to get a sense of a dentist's work, she explains, is to explore their website. Patients can view galleries, testimonials, and information about the dentist's experience and certifications to help influence their decision.
About Ann Haggard, DDS
Throughout her nearly two-decade-long career, Dr. Haggard has made it a goal to stay updated on the latest trends in the dental world. An active member of the American Academy of Cosmetic Dentistry (AACD), the American Dental Association (ADA), and the Texas Women's Dental Association, she has earned a reputation among patients for her devotion to detail and new technology. She is also known for her ability to communicate transparently with patients in order to help them feel comfortable during treatment. Dr. Haggard is available for interview upon request.
For more information about Dr. Ann Haggard and her practice, visit designerforsmiles.com and facebook.com/designersmilestexas.
Contact:
Designer Smiles
1015 W. Medical Center Blvd. Suite 1600
Webster, Texas 77598
(281) 338-9032
Rosemont Media
(800) 491-8623
www.rosemontmedia.com