How Do Celebrities Get Their Teeth So White?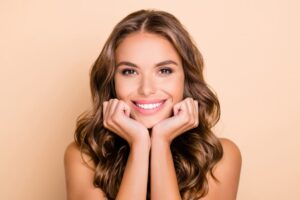 Plenty of the best-known starlets in Hollywood are known for their dazzling, stark-white smiles — but did you know that you can achieve a smile that bright and white just as easily? You don't have to make millions of dollars a year to afford advanced cosmetic dentistry treatments at Designer Smiles! Our experienced cosmetic dentist, Ann Haggard, DDS, offers many methods to help you obtain a celebrity-grade smile. Teeth whitening and porcelain veneers are our most popular options for smile whitening and enhancement.
Our professional teeth whitening treatments range from in-office procedures to take-home kits. Zoom!® in-office teeth whitening involves the use of a potent, medical grade peroxide gel, which is activated by the light of a curing lamp and gently applied to the enamel (or superficial layer) of the teeth. The result is typically a much whiter and more aesthetically-pleasing smile. Similarly, our powerful take-home teeth whitening solutions can dramatically enhance the smile. They can be administered according to your schedule and worn as often as needed to achieve your desired degree of whiteness.
For patients with more severe discoloration or internal stains that have not responded to professional-grade whitening, Dr. Ann often recommends porcelain veneers. These thin strips of durable, beautiful porcelain are custom-crafted to match the shade of your teeth. They can be used to mask a variety of imperfections, including discoloration, chips, cracks, misalignment, and more. Note that while veneers can be extremely effective at reducing significant stains, candidates for veneers must have reasonably strong teeth in order to support the restorations.
Would you like to upgrade your smile to celebrity status? Schedule a consultation with Dr. Ann by contacting Designer Smiles today!