Spring Invisalign® Special!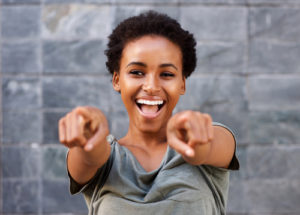 Spring is the season for fresh starts!  Temperatures are rising.  Grass is growing.  Flowers are blooming.  The sunshine and longer days inspire many people to get outside and get healthy.
This spring, we want you to take advantage of the changing seasons by getting a fresh start with your teeth.  Invisalign® is a new beginning for people with crooked teeth!
How is Invisalign® a Fresh Start?
Invisalign® gives you a new smile, one that is straight, healthy, and beautiful.  Not only will Invisalign® give you the smile of your dreams; because the aligners are virtually invisible, you can straighten your teeth invisibly.
Invisalign®'s patented clear aligners fit the teeth so intimately that they are almost impossible for others to notice.  Unlike ugly metal brackets and wires, Invisalign®'s clear aligners allow you to reach your smile goals without compromising your current appearance.
For many adults wanting straight teeth, the idea of the embarrassment of traditional braces is stronger than their desire to have a straight, beautiful smile.  They believe that the end result is just not worth the 18-24 months of regression to the awkward teenage days of "metal mouth".
If you can totally relate to that sentiment, Invisalign® is for you!
What Problems Can Invisalign® Fix?
Invisalign® itself is capable of fixing almost every orthodontic problem under the guidance of the right dentist.  Invisalign® corrects any type of crowding or crookedness, from the most minor to the most severe.  Invisalign® is effective at closing gaps and spaces between teeth.  Invisalign® can correct bite problems.  Case studies show the effectiveness of clear aligner therapy to correct a wide variety of orthodontic issues.
The trick is finding a dentist who is an expert with Invisalign®.  Dr. Ann and Dr. Lauren are Invisalign® experts.  Through many years of experience and many cases treated, Designer Smiles is the preferred provider for Invisalign® in the South Houston area.
With an experienced dentist to guide you through your Invisalign® treatment, you will get the smile of your dreams in no time!
Why Should I Do Invisalign® Now?
There are three important reasons you should do Invisalign® NOW!
Teeth are constantly moving and shifting. As we age, the natural progression of this movement is for the teeth to come forward, creating crowding and crookedness among the front teeth.  Even if your teeth were straightened when you were younger, they are likely to become crooked over time.  Because teeth get more crooked as we age, the earlier you complete Invisalign® treatment, the easier it is!  Invisalign® treatment length is determined by the amount of tooth movement required.  The more your teeth have to move to get into a straight alignment, the longer it will take.  Earlier Invisalign® treatment = Shorter Invisalign® treatment.
The sooner you start treatment, the sooner you have your dream smile. The sooner you have your dream smile, the longer you get to enjoy it!
Our Spring Invisalign® special! This March, we are offering $500 of Invisalign® treatment to 10 of our patients.  The first 10 people to call 281-667-4010 by March 23 will receive a huge discount on their Invisalign® treatment.  You do not have to be a current patient of Designer Smiles to get this discount.  We are always accepting new patients, whether you are interested in Invisalign® or not.
How Do I Get Started with Invisalign®?
The first step is to call now!  Only the first 10 people will receive our spring special offer of $500 off.  Schedule a consultation to meet with a cosmetic dentist at our practice to see if you are a candidate for teeth straightening with Invisalign®.
Once Dr. Ann and Dr. Lauren have confirmed that Invisalign® will accomplish your smile goals, you will have a comprehensive dental evaluation.  We only want to move healthy teeth with a healthy foundation of gum and bone.  Dr. Ann and Dr. Lauren will guide you in any dental treatment that needs to be completed before you start Invisalign®.
Do you hate dental impressions?  Or worry about gagging?  You have nothing to fear at Designer Smiles!  Because we are committed to providing our patients with the latest technology, we do not use traditional dental impressions for your Invisalign® treatment.  Our iTero® machine captures a perfect digital impression using 3D intraoral scanning.  A small wand is used to capture these images, and the 3D model is sent directly to the Invisalign® lab.
During a short planning period, Dr. Ann and Dr. Lauren work with the orthodontic lab technician at Invisalign® to design your customized aligners.  This process takes a few weeks.  Then the lab manufactures your aligners and sends them to Designer Smiles.
Your initial Invisalign® visit is full of information.  We give you instructions and tips on how to best achieve results with Invisalign®.  We will see you every 4-6 weeks to monitor your progress.
Once your teeth are straight, and you are happy with the appearance of your smile, we order your custom Vivera® retainers, which keep your smile looking beautiful for years to come!  Retainers must be worn regularly to keep the teeth in their new position.  Remember, teeth move over time.  The only way to stop the crowding process as you age is to hold the teeth by wearing retainers.
How Can I Get $500 Off Invisalign®?
Call 281-667-4010 today!  Ask for Johnita to discuss this great discount and schedule your visit with Dr. Ann and Dr. Lauren.