Houston Dentists Introduce Advanced Technology for Bite Alignment Analysis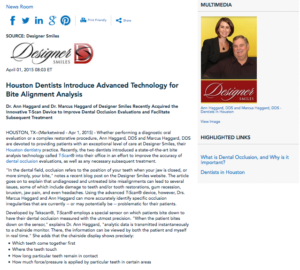 Dr. Ann Haggard and Dr. Marcus Haggard of Designer Smiles recently acquired the innovative T-Scan® device to improve dental occlusion evaluations and facilitate subsequent treatment.
Houston, TX — Whether performing a diagnostic oral evaluation or a complex restorative procedure, Ann Haggard, DDS and Marcus Haggard, DDS are devoted to providing patients with an exceptional level of care at Designer Smiles, their Houston dentistry practice. Recently, the two dentists introduced a state-of-the-art bite analysis technology called T-Scan® into their office in an effort to improve the accuracy of dental occlusion evaluations, as well as any necessary subsequent treatment.
"In the dental field, occlusion refers to the position of your teeth when your jaw is closed, or more simply, your bite," notes a recent blog post on the Designer Smiles website. The article goes on to explain that undiagnosed and untreated bite misalignments can lead to several issues, some of which include damage to teeth and/or tooth restorations, gum recession, bruxism, jaw pain, and even headaches. Using the advanced T-Scan® device, however, Drs. Marcus Haggard and Ann Haggard can more accurately identify specific occlusion irregularities that are currently – or may potentially be – problematic for their patients.
Developed by Tekscan®, T-Scan® employs a special sensor on which patients bite down to have their dental occlusion measured with the utmost precision. "When the patient bites down on the sensor," explains Dr. Ann Haggard, "analytic data is transmitted instantaneously to a chairside monitor. There, the information can be viewed by both the patient and myself in real time." She adds that the chairside display shows precisely:
Which teeth come together first
Where the teeth touch
How long particular teeth remain in contact
How much force/pressure is applied by particular teeth in certain areas
"All of this information helps us determine exactly what adjustments, if any, need to be made in order to improve the patient's bite alignment," states the Houston dentist. "Additionally, should any treatment be necessary, the T-Scan® will enable us to identify exactly what to correct, making the treatment much more effective and efficient."
Ultimately, Drs. Marcus Haggard and Ann Haggard feel the addition of T-Scan® aligns directly with their goal of continually improving patient care at their practice, and they are excited to offer their patients such an innovative diagnostic technique for bit alignment issues.
About Ann Haggard, DDS
Dr. Ann Haggard graduated Cum Laude from Centenary College of Louisiana and earned her dental degree from Texas A&M Baylor College of Dentistry. She maintains active membership in several esteemed dental organizations, including the American Dental Association, the Texas Dental Association, and the Houston District Dental Society, among others.
About Marcus Haggard, DDS
Dr. Marcus Haggard earned his dental degree from the University of Texas, Dental Branch and has been in practice since 1968. He continues to remain actively involved in the American Dental Association, the Texas Dental Association, and the Houston District Dental Society.
For more information about Dr. Ann Haggard and Dr. Marcus Haggard, visit designerforsmiles.com and facebook.com/designersmilestexas. Both dentists are available for interview upon request.
Contact:
Designer Smiles
1015 Medical Center Blvd. Suite 1600
Webster, Texas 77598
281-667-4010
Rosemont Media
858-200-0044
www.rosemontmedia.com