Designer Smiles is Open!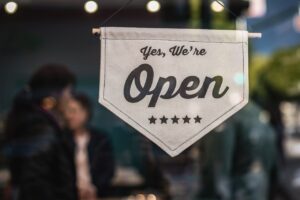 We are thrilled to announce that as of today, Monday, May 4, we are open for business.  We have followed both governmental and regulatory agency requirements for the past six weeks in order to continue caring for our patients with dental emergencies and, at the same time, do our part to flatten the curve.  We remain committed to protecting the health of both patients and team members while we resume our provision of excellent dental care to everyone who enters our doors.
This means we have instituted a few changes in our operating procedures.  You may notice these changes as some of them will affect your experience in our office.  Others are behind the scenes measures taken to ensure the safety of everyone in the office, patients and staff alike.
Changes Upon Entering Our Office
The first, and most noticeable, change is that the main entrance to the office will remain locked.  This is to prevent any gathering of people in the lobby area that would prevent appropriate social distancing.
Each patient will be greeted at the door to have his or her temperature taken and to answer screening questions to discern any risk of COVID-19 infection.  We will give each patient a mask to wear in any open spaces within our office. (Obviously, we cannot perform dental work when the patient is wearing a mask, so you will remove the mask once you reach your sterilized treatment room.)
The next step is immediate hand washing and signing of a treatment consent form with a brand new, disposable pen that will be yours and yours alone.
In the Treatment Room
You will sign any additional treatment forms with your new pen that only you have touched.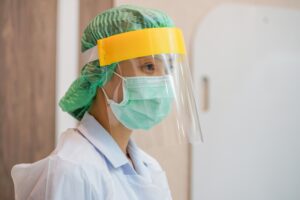 We have changed our personal protective equipment (PPE) to be in compliance with mandates from the governor and the Texas State Board of Dental Examiners.  We have switched from traditional dental masks to N95 masks, and we have added a face shield over the masks and eye protection that we already wear.  We have also added gowns and head coverings.  We already wore these during surgical procedures, and now they will be part of every patient procedure.
Historically, we always maintained a protocol for pre-treatment mouthrinses. This has now been adjusted to include the recommendation of hydrogen peroxide, which lowers any presence of the virus in the mouth.  This will reduce any viral aerosol produced into the air protecting both our team members and any subsequent patients.
The treatment room itself will also look a little different with more barriers (disposable coverings) on every possible surface to enable us to clean and sterilize each room more quickly.
As You Check Out
We have added barriers at the front desk to separate you from our front office staff members.  We have credit card machines that allow you to swipe your own card so that nothing changes hands during the transaction.  These machines are sanitized after each use.
Behind the Scenes
Each Designer Smiles team member will submit to a temperature check and screening questions at the start and finish of each business day to confirm her health before interacting with any patients.
We also have additional room sterilization techniques that we will employ between patients that include air filtration systems and UV light treatments.
We implemented a strict procedure for donning and removing PPE to protect ourselves and the equipment from any contamination.
How You Can Help
Those who may be at high risk for severe complications from coronavirus infection should continue to shelter in place and avoid areas of possible virus transmission.  If you fall into this category and experience a dental emergency, we will work with you to help you obtain the necessary treatment in a manner that protects your health.
Please do not bring anyone with you to your dental appointments.  We will not have the lobby open for waiting, and for the protection of all involved, only patients receiving dental treatment are allowed in treatment rooms.
If you begin to feel ill or develop a fever, please call us to let us know and cancel your appointment.
Please follow any instructions you receive over the phone before your appointment.  All of the measures we are taking serve to protect each of us from infection and illness.  Your health and safety is our highest priority!
More Questions about Our Re-Opening?
Call Designer Smiles with any questions you have about scheduling a visit or receiving dental care at this time.  Our team is eager and ready to care for you and your loved ones!