Benefits of a Trial Smile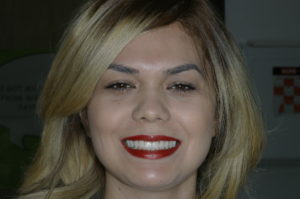 Choosing to enhance your smile with porcelain veneers or other cosmetic dentistry procedures can feel like a big commitment. No matter how knowledgeable and experienced your dentist may be, many patients still wonder if they will be truly satisfied with their final results. To help our patients visualize their new smile before having to commit to a final treatment plan, we now offer trial smiles. A trial smile allows you to temporarily "try on" your improved smile so that you can make the most informed decision about how you would like your final restorations to look.
Crafted from high-quality composite resin, trial smiles are custom-designed according to the specific details outlined in your consultation with Dr. Ann Haggard. Using an impression of your teeth, a photo of your smile, and Dr. Haggard's notes, our master ceramist fabricates a replica of your proposed smile that can be temporarily bonded to the teeth. During your consult, you may wear and take photos of your trial smile to evaluate your new look, specify further changes you would like to make, and/or get the opinions of your friends and family. Once you have made your decision to proceed with treatment, Dr. Haggard can order your final restorations from the lab and complete your smile transformation.
If you are considering cosmetic dentistry and would like to learn more about trial smiles, we encourage you to contact Designer Smiles to schedule a consultation.