Trial Smile: The Try-Before-You-Buy Option for Cosmetic Dentistry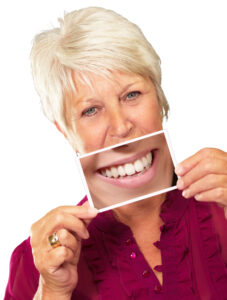 We know that you know that your dentist looks at teeth all day, every day.  We also know that while you know that, you might not consider that this enables us to envision smile changes very easily.  We can look at an imperfect smile, see the exact problems in it, and conjure up an image of what the smile could look like with a little help from cosmetic dentistry.
We also know that most of our patients do not have that ability, which is why we offer a cool solution to the problem of not being able to envision what your smile could look like.  That solution is the Trial Smile.
What is a Trial Smile?
A trial smile is basically an overlay of tooth-colored filling material that Dr. Ann places on the teeth to show you the projected results of cosmetic dentistry.  With this covering of the teeth, she is able to show you changes in the color of your teeth, as well as the shape, size and positioning.  When the trial smile is in place, you are able to evaluate the appearance of your entire face with the proposed changes to your teeth.
Most people immediately notice that the entire face appears younger and brighter when they are wearing their trial smile.  The trial smile is a customized restoration that our highly skilled lab technician makes using detailed instructions from Dr. Ann, exact replicas of your teeth, and photos of your face.  Those detailed instructions include which teeth to cover, any personal preferences you have about what makes a smile beautiful, and the desired color of the teeth.
Our lab technician uses the photos of your whole face and software to digitally design the smile so that it appears natural and fits well.
What is the Process for a Trial Smile?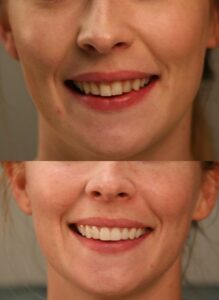 The first step in the process of a trial smile is an information-gathering visit with Dr. Ann.  During this visit, you will have an in-depth conversation regarding your preferences and your goals for your smile.  Dr. Ann may have you view different shapes and sizes of teeth to understand your idea of a beautiful smile because we never take a one-size-fits-all approach to cosmetic dentistry.  We want your designer smile to fit you and your preferences.  At this visit, our dental assistants will take scans and photos of your teeth and face in order to send a comprehensive picture to our lab.
There is a short waiting period after this initial visit while the lab technician creates the trial smile based on our precise instructions.  Once the lab completes the trial smile and sends it back to us, we will schedule your second visit, which is the try-in.
At the try-in visit, Dr. Ann will place your customized trial smile onto your teeth and temporarily attach it with some removable dental adhesive.  This allows you to get up and walk around with your trial smile.  We never expect you to evaluate your new smile in a dental chair with a small hand mirror.  We like for our patients to see the smile in different lighting and in the context of your entire face.
The best way for our patients to evaluate the appearance of the trial smile is to see side-by-side photos.  We will take your photo wearing the trial smile in the same position as the planning photos so that you get a direct comparison.  We can even take a video showing you how your new smile appears when you speak, smile and laugh.  This helps you envision what the smile looks like in a natural, moving face.
For the cost of about one dental filling, you can get a very good idea of how you would look with a beautiful new smile.
What are the Limitations of a Trial Smile?
As much as we love trial smiles, we must admit that there are a few limitations.  A trial smile is not a perfect replica of what your prescribed set of porcelain veneers will look like.  When we make porcelain veneers, we remove a layer of enamel in order to create space for the porcelain.  Obviously, we do not use a drill and remove enamel until our patient has fully committed to proceeding with the veneer process.  For a trial smile, we do not remove any tooth structure.  This means that the trial smile is one hundred percent additive.  All of the material covers over the existing teeth.  This means that a trial smile is always thicker than the actual veneers would be.  Therefore, it can feel a little bulky under the lip.  It may also look a little bulky under close inspection.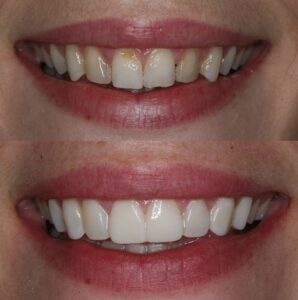 Another important limitation is that trial smiles are temporary.  You cannot wear them out of the office or expect them to last for any length of time.  You certainly cannot eat with them in place without putting yourself at risk for choking on broken dental plastic.  In rare cases, we will let someone wear a trial smile out of the office in order to show a loved one who was not able to accompany them to the appointment.  We much prefer removing them and cleaning the teeth underneath in our office for the patient's safety.
Interested in a Trial Smile for Yourself or a Loved One?
Call Designer Smiles today to set up a cosmetic consultation appointment with Dr. Ann.  She can answer any questions you have about your unique smile and any goals you have for cosmetic dentistry to accomplish.