Resolve to Have a Whiter, Healthier Smile
Did you know that whitening your teeth can actually make them healthier? This month, we have been discussing how to improve the health of your smile.  When you work toward a healthy smile, your work also enhances the appearance of your smile.
Healthy habits like those discussed in our first 2018 blog help you reduce your risk for cavities and gum disease.  A beautiful smile is always a clean smile.  Gingivitis is unsightly.  Maintaining healthy gums is an important aspect of a healthy, beautiful smile.
Professional Teeth Whitening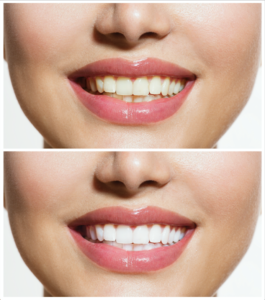 With healthy habits lowering your risk for cavities and gum disease, you can continue to enhance the health and appearance of your smile with professional teeth whitening.  Our goal for you in 2018 is beautiful white teeth with healthy pink gums.
Teeth whitening has always been considered a strictly cosmetic procedure.  It is no surprise that whitening your teeth does improve the cosmetic appearance of your smile.  What most people are unaware of is the fact that certain types of teeth whitening can actually promote the health of your teeth and gums.
How is Teeth Whitening Healthy?
The most commonly used ingredients in teeth whitening are hydrogen peroxide and carbamide peroxide.  Hydrogen peroxide is well known as an antiseptic with the ability to kill bacteria.  Carbamide peroxide has been studied for over 20 years and shows antibacterial properties also.
Research studies show that carbamide peroxide reduces cavity risk by increasing the pH of saliva and plaque.  The bacteria in our mouths are able to damage the enamel of teeth when the pH reaches 5.5 or lower.  By raising the pH, carbamide peroxide makes it more difficult for cavities to begin forming.
There is also a physical debridement mechanism of carbamide peroxide.  The bubbling action of peroxides physically disrupt the plaque that accumulates on teeth, leading to cavities and gum disease.
Finally, the chemical activity of the peroxides kill the dangerous bacteria that cause cavities and gum disease.
Which Type of Teeth Whitening is Healthiest?
The greatest effect of teeth whitening on oral plaque and bacteria happens when you use carbamide peroxide gel in a custom whitening tray overnight.  There are several benefits of using custom trays to whiten your teeth.
Long-term use – Once custom trays are made for your teeth, you will be able to use them for years and years to whiten your teeth. You can buy refill kits of whitening gel as needed.
Better for sensitive teeth – Whitening gel used in a custom tray allows you to pick and choose which areas to whiten. This means you can avoid any areas of sensitivity.  Ann and Dr. Lauren can show you how to load the whitening gel into the tray for the best effect with the least tooth sensitivity.
You are in control! – With custom trays and whitening gel, you decide how much and how often to whiten your teeth. The whitening effect develops gradually over a period of 7-14 days, and you make the decision of when to stop.
Versatility – Because we offer various concentrations of whitening gel, you can select the one that fits your schedule and goals the best. Some people prefer whitening overnight; others like to whiten in a short period of time during the day.
Long shelf life – Carbamide peroxide gel has a long shelf life. If you find that you do not use your entire kit of whitening gel, keep it in the refrigerator.  Then you can pull it out anytime you need to perform some maintenance whitening.  Maintenance can be done as often or as infrequently as you desire.
How Can I Start Whitening?
The process to whiten your teeth with custom whitening trays and professional strength gel is a simple one.  Here is a step by step list of how the process works.
Schedule an appointment at Designer Smiles for a whitening consultation with Dr. Ann and Dr. Lauren. Call 281-667-4010 to do this now!
Discuss your long term whitening goals with them. Make sure to address any concerns you have with the shape or alignment of your teeth.
Rule out the need for any major dental work with a comprehensive evaluation and dental x-rays. You do not want to invest in custom whitening trays before having major dental work completed.  This would prevent you from using the whitening trays because the shape of the teeth are changed.
Confirm that custom tray whitening is the best option for you. Custom tray whitening is the gold standard and the best option for most people.  However, we do not use a one size fits all approach at Designer Smiles.  Each person is given recommendations based on their specific needs and desires.
Stay for a quick dental impression of your upper and lower teeth. These impressions are used to make exact replicas of your teeth, which form the basis of your whitening trays.
Wait approximately one week for the fabrication of your custom whitening trays.
Return to our office to receive your custom whitening trays. The trays will be fitted to confirm the proper adaptation to the teeth.  Our skilled dental assistants will give you detailed instructions on loading the whitening gel into each tray.  You will also be instructed on cleaning the trays after each use.
Whiten your teeth until you achieve your desired result. You may experience some mild tooth sensitivity, and this is normal.  Any sensitivity that does not resolve after you stop whitening should be assessed by Dr. Ann and Dr. Lauren.
Maintain your white smile! Use the custom trays and whitening gel as needed to maintain the brightness of your smile.  On average, most people will whiten every 6 months for maintenance.  This frequency varies widely based on certain habits.  Coffee, tea and red wine drinkers will likely desire more frequent maintenance whitening, as their teeth will stain more quickly.
Do You Have More Questions about Teeth Whitening?
Call our office at 281-667-4010 today!  Our knowledgeable front office staff can answer all of your teeth whitening questions and schedule you for a visit at Designer Smiles as soon as possible.