Webster Dentist Shares Tips for Finding the Best Dentist in Clear Lake, TX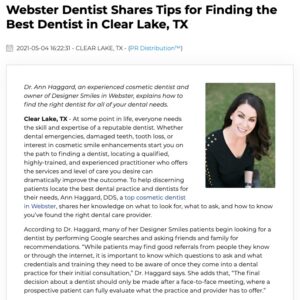 Dr. Ann Haggard, an experienced cosmetic dentist and owner of Designer Smiles in Webster, explains how to find the right dentist for all of your dental needs.
Clear Lake, TX – At some point in life, everyone needs the skill and expertise of a reputable dentist. Whether dental emergencies, damaged teeth, tooth loss, or interest in cosmetic smile enhancements start you on the path to finding a dentist, locating a qualified, highly-trained, and experienced practitioner who offers the services and level of care you desire can dramatically improve the outcome. To help discerning patients locate the best dental practice and dentists for their needs, Ann Haggard, DDS, a top cosmetic dentist in Webster, shares her knowledge on what to look for, what to ask, and how to know you've found the right dental care provider.
According to Dr. Haggard, many of her Designer Smiles patients begin looking for a dentist by performing Google searches and asking friends and family for recommendations. "While patients may find good referrals from people they know or through the internet, it is important to know which questions to ask and what credentials and training they need to be aware of once they come into a dental practice for their initial consultation," Dr. Haggard says. She adds that, "The final decision about a dentist should only be made after a face-to-face meeting, where a prospective patient can fully evaluate what the practice and provider has to offer."
No matter what stage of the research process you are in, these tips from Dr. Haggard can help to identify which dentists may be an ideal match for your unique needs and goals:
To start, check each dentist's credentials and training. Any suitable dentist must have a DMD or DDS degree, and should have additional training in advanced cosmetic, restorative, and implant dentistry if those types of procedures are offered.
Notice any mention of professional memberships and involvement with prestigious dental organizations. Certain organizations, such as the American Academy of Cosmetic Dentistry (AACD), only approve membership for elite practitioners who demonstrate and maintain the highest level of skill, training, patient care, and ethical conduct in the field.
Examine patient reviews and ratings to learn more about real patients' first hand experiences with certain dentists. Ratings and reviews can reveal important information about the quality of care received, the dentist's approach, and their level of satisfaction with the outcome. 5-star ratings and glowing reviews can indicate a reputable and reliable practitioner.
Explore the treatments and procedures they offer. If you are interested in porcelain veneers, Invisalign®, or implant dentures, make sure the dentist is trained and experienced in these techniques and has an established reputation for success.
Look at before-and-after photos. Before-and-after photos of dentists' patients can provide a glimpse into the results that may be possible with specific types of treatments. Many dentists will provide a wide assortment of photos on their website and in their office.
Call dental practices with any questions you have and schedule a consultation to meet with dentists in person. Speaking directly with the practice, visiting their office, discussing your dental concerns and goals with the dentist, and learning about suitable treatments can provide you with all of the information you need to make an informed decision about your care. Only choose dentists and practices that help you to feel comfortable and confident about entrusting them with your health and smile.
When patients express interest in receiving dental care from Designer Smiles and come in for consultations, Dr. Haggard and the team say they focus on creating the most enjoyable and informative experience possible—"When you set foot into a dental practice, we believe you should feel at home and well taken care of at every phase of the process." Dr. Haggard adds that good communication, lasting patient relationships, customized treatment planning, and a partnership with a high-quality dental lab are additional positive signs of a great dental practice—all of which are key elements of the Designer Smiles approach.
Dr. Haggard and her team wish all those searching for a dentist the best of luck on their journey toward a healthier more beautiful smile. Ultimately, everyone deserves a confident smile and optimum dental health that lasts long into the future.
About Ann E. Haggard, DDS
Dr. Ann Haggard graduated from Centenary College of Louisiana and earned her dental degree from Texas A&M Baylor College of Dentistry. As a leading provider of cosmetic dentistry, Dr. Haggard is passionate about continuing education and stays abreast of the latest developments in the field. She is a "Premier Provider" of Invisalign®, certified in sedation dentistry, and is also highly trained in implant dentistry techniques and cosmetic dentistry treatments. Dr. Haggard is an active member of several prestigious dental organizations, including the American Academy of Cosmetic Dentistry (AACD), the American Dental Association, the Texas Dental Association, and the Houston District Dental Society, among others. Dr. Haggard is available for interview upon request.
For more information about Dr. Haggard and her practice, Designer Smiles, please visit designerforsmiles.com and facebook.com/designersmilestexas.
Designer Smiles
1015 W. Medical Center Blvd. Suite 1600
Webster, Texas 77598
(281) 338-9032
Rosemont Media
(800) 491-8623
www.rosemontmedia.com