Invisalign and Dental Implants Gaining Popularity in Houston Says Cosmetic Dentist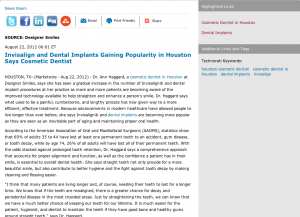 Houston, TX — Dr. Ann Haggard, a cosmetic dentist in Houston at Designer Smiles, says she has seen a gradual increase in the number of Invisalign® and dental implant procedures at her practice as more and more patients are becoming aware of the improved technology available to help straighten and enhance a person's smile. Dr. Haggard says what used to be a painful, cumbersome, and lengthy process has now given way to a more efficient, effective treatment. Because advancements in modern healthcare have allowed people to live longer than ever before, she says Invisalign® and dental implants are becoming more popular as they are seen as an inevitable part of aging and maintaining proper oral health.
According to the American Association of Oral and Maxillofacial Surgeons (AAOMS), statistics show that 69% of adults 35 to 44 have lost at least one permanent tooth to an accident, gum disease, or tooth decay, while by age 74, 26% of all adults will have lost all of their permanent teeth. With the odds stacked against prolonged tooth retention, Dr. Haggard says a comprehensive approach that accounts for proper alignment and function, as well as the confidence a patient has in their smile, is essential to overall dental health. She says straight teeth not only provide for a more beautiful smile, but also contribute to better hygiene and the fight against tooth decay by making cleaning and flossing easier.
"I think that many patients are living longer and, of course, needing their teeth to last for a longer time. We know that if the teeth are misaligned, there is a greater chance for decay and periodontal disease in the most crowded areas. Just by straightening the teeth, we can know that we have a much better chance of keeping our teeth for our lifetime. It is much easier for the patient, hygienist, and dentist to maintain the teeth if they have good bone and healthy gums around straight teeth," says Dr. Haggard.
One way Dr. Haggard discreetly straightens teeth while allowing her patients to maintain their daily routines is with the use of Invisalign®. Using a series of clear plastic aligners, Invisalign® relies on gentle pressure, much in the way traditional braces work, to move teeth into the proper position. Dr. Haggard says the benefits, however, of undergoing Invisalign® are that it is more discreet and less painful. Thanks to the innovations in orthodontic treatment that have emerged with procedures such as Invisalign®, Dr. Haggard says patients can now help combat future concerns and achieve a more aesthetically pleasing smile simultaneously.
While Invisalign and other dental procedures have helped pave the way for the prevention of ailments such as tooth decay and tooth loss, Dr. Haggard says addressing current gaps and missing teeth with dental implants is an increasingly popular option. When inserting a dental implant at her Houston cosmetic dentistry practice, she says she now employs a soft tissue laser to help minimize pain and decrease trauma to the gums and bone. For her patients who are concerned about the pain of undergoing dental implants, Dr. Haggard stresses the value and benefits of modern technology to improve patient comfort and reduce soreness and anxiety.
"The most common question is if having the implant placed will hurt and if it will feel any different than surrounding teeth. Implants can be placed very painlessly now. What used to be a very invasive procedure can be done sometimes in less than half an hour with little to no discomfort. I usually explain that because we are able to make our access with a soft tissue laser that there is no trauma to the tissue, which is what caused postoperative pain in the past," she says.
However, for patients considering both Invisalign and dental implants, she says patients need to take into account the fact that implants will not move like natural teeth once placed. "I have many patients that come to me wanting an implant for a missing tooth. The first thing that I tell them is that once the implant is placed, it will not move. So if they have ever considered straightening their teeth, now is the time. We can usually put a fake tooth in the space where the tooth is missing while we straighten the teeth so that it does not look like they are missing the tooth. Towards the end of the Invisalign treatment, the implant can be placed and be healing while the patient finishes up the last few months of treatment. Then, once the teeth are straight, the implant can be restored in the proper position," says Dr. Haggard.
Regardless of what stage each patient is in with regards to their dental health, Dr. Haggard says seeking holistic treatment from an experienced and qualified cosmetic dentist is essential for ensuring the proper results are achieved for a beautiful, healthy smile. She says as procedures like Invisalign® and dental implants grow more popular, patients will reap the benefits of extensive research and the pursuit of higher quality comfort and care.
About Ann E. Haggard, DDS
Dr. Ann Haggard earned her Doctor of Dental Science degree from Texas A&M Baylor College of Dentistry, where she was a member of the Delta Sigma Delta Professional Dental Fraternity and won an award for outstanding achievement in periodontics. She is a member of the American Dental Association, the Texas Dental Association, the American Academy of Cosmetic Dentistry, and several other professional organizations.
Located at 1015 Medical Center Blvd Suite 1600 in Webster, TX, Designer Smiles can be reached at (281) 667-4010. It can also be contacted online via the website designerforsmiles.com or facebook.com/designersmilestexas.