Clear Lake & Webster Dentist Explains Implant Denture Benefits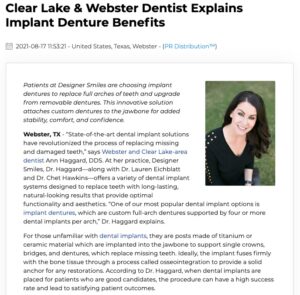 Patients at Designer Smiles are choosing implant dentures to replace full arches of teeth and upgrade from removable dentures. This innovative solution attaches custom dentures to the jawbone for added stability, comfort, and confidence.
Webster, TX – "State-of-the-art dental implant solutions have revolutionized the process of replacing missing and damaged teeth," says Webster and Clear Lake-area dentist Ann Haggard, DDS. At her practice, Designer Smiles, Dr. Haggard—along with Dr. Lauren Eichblatt and Dr. Chet Hawkins—offers a variety of dental implant systems designed to replace teeth with long-lasting, natural-looking results that provide optimal functionality and aesthetics. "One of our most popular dental implant options is implant dentures, which are custom full-arch dentures supported by four or more dental implants per arch," Dr. Haggard explains.
For those unfamiliar with dental implants, they are posts made of titanium or ceramic material which are implanted into the jawbone to support single crowns, bridges, and dentures, which replace missing teeth. Ideally, the implant fuses firmly with the bone tissue through a process called osseointegration to provide a solid anchor for any restorations. According to Dr. Haggard, when dental implants are placed for patients who are good candidates, the procedure can have a high success rate and lead to satisfying patient outcomes.
"When patients require full arch replacement, dentures supported by dental implants can provide a wide range of important benefits for patients—especially when compared to traditional removable dentures," says Dr. Haggard. She explains the following advantages offered by implant dentures:
Stability & Security: Since dental implants essentially lock the denture in place, patients can expect their implant dentures to remain securely fixed in place for optimal stability.
Confidence: Patients with implant dentures can smile, chew all of their favorite foods, laugh, and speak with confidence, knowing their dentures will not shift in the mouth or fall out.
Comfort: Implant dentures are custom designed for an optimal fit and will not rub or shift on the gumline.
Natural Look: Implant dentures crafted from high-quality materials and designed by an experienced cosmetic dentist can deliver beautiful, natural-looking smiles.
Jawbone Health: Dental implants stimulate the natural jawbone regeneration process, which prevents bone loss.
Wider Range of Candidates: Implant dentures, especially the All-on-4® technique, may be a suitable choice for patients who are not considered good candidates for single dental implants due to inadequate jawbone density.
At Designer Smiles, Dr. Haggard and her team offer the full spectrum of implant denture options, including implant supported-dentures (which are removable), All-on-4® and All-on-6, full mouth restoration, and other fully customized implant denture solutions. The implant denture process begins with a comprehensive oral evaluation that incorporates 360 degree, 3D imaging with the PreXion® Cone Beam to determine candidacy for the procedure. Dr. Haggard also uses the X-Guide™ by X-Nav Technologies to create a step-by-step surgical plan for optimized implant placement and a smooth implant procedure. Once the implants have been placed, Dr. Haggard uses her expertise in cosmetic dentistry to design beautiful full-arch implant dentures, which are fabricated in a trusted dental lab. "At every stage of the process, our team is using state-of-the-art technology combined with our advanced dental skills to ensure patients are receiving top-quality care and an outstanding final outcome," says Dr. Haggard.
For those who want all of the benefits of implant dentures, Dr. Haggard recommends finding an experienced and highly trained dentist who regularly performs the procedure. As a 5-star reviewed dentist, Dr. Haggard also encourages individuals considering implant dentures to choose dentists with a reputation for success, quality care, and outstanding dental implant results.
About Ann E. Haggard, DDS
Dr. Ann Haggard is the medical director of Designer Smiles. She earned her dental degree from Texas A&M Baylor College of Dentistry and went on to complete post-graduate training in a wide array of advanced dental techniques. As a leading provider of cosmetic dentistry, Dr. Haggard is passionate about continuing education and stays abreast of the latest developments in the field. She is certified in sedation dentistry, a "Premier Provider" of Invisalign®, and is also highly trained in cosmetic dentistry treatments, as well as implant dentistry techniques. Dr. Haggard is an active member of several prestigious dental organizations, including the American Academy of Cosmetic Dentistry (AACD), the Texas Dental Association, the American Dental Association, and the Houston District Dental Society, among others. Dr. Haggard is available for interview upon request.
To learn more about Dr. Ann Haggard and her practice, visit designerforsmiles.com and facebook.com/designersmilestexas.
Contact:
Designer Smiles
1015 W. Medical Center Blvd. Suite 1600
Webster, Texas 77598
(281) 338-9032
Rosemont Media
(800) 491-8623
www.rosemontmedia.com