Clear Lake Dentist Explains Benefits of a Smile Makeover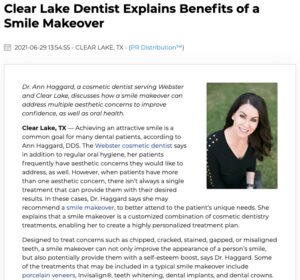 Dr. Ann Haggard, a cosmetic dentist serving Webster and Clear Lake, discusses how a smile makeover can address multiple aesthetic concerns to improve confidence, as well as oral health.
Clear Lake, TX — Achieving an attractive smile is a common goal for many dental patients, according to Ann Haggard, DDS. The Webster cosmetic dentist says in addition to regular oral hygiene, her patients frequently have aesthetic concerns they would like to address, as well. However, when patients have more than one aesthetic concern, there isn't always a single treatment that can provide them with their desired results. In these cases, Dr. Haggard says she may recommend a smile makeover, to better attend to the patient's unique needs. She explains that a smile makeover is a customized combination of cosmetic dentistry treatments, enabling her to create a highly personalized treatment plan.
Designed to treat concerns such as chipped, cracked, stained, gapped, or misaligned teeth, a smile makeover can not only improve the appearance of a person's smile, but also potentially provide them with a self-esteem boost, says Dr. Haggard. Some of the treatments that may be included in a typical smile makeover include porcelain veneers, Invisalign®, teeth whitening, dental implants, and dental crowns. Depending on the patient's individual goals, as well as overall oral health, Dr. Haggard says she can determine which combination of procedures is most appropriate. She notes that if oral health issues are present, they will need to be addressed before moving on to cosmetic procedures.
To complete a smile makeover, Dr. Haggard utilizes a three-stage method:
Pre-Treatment Phase: During this stage, Dr. Haggard works with patients to determine their aesthetic goals and whether or not oral health concerns need to be treated. X-rays, images, and dental molds may also be taken at this time.
Treatment Phase: Based on the patient's treatment plan, Dr. Haggard schedules out two or more appointments to complete the predetermined cosmetic dentistry treatments. Patients who require orthodontic care may need to return for several appointments over the course of a year or more before the smile makeover is complete.
Post-Treatment Phase: To ensure smile makeover results are long-lasting, Dr. Haggard encourages patients to maintain routine dental visits. She says that beyond maintaining good oral hygiene, these appointments can be utilized to monitor for concerns, ultimately minimizing the likelihood of needing retreatment, as well as preventing wear and tear.
For individuals considering a smile makeover, Dr. Haggard recommends seeking a cosmetic dentist who is experienced and skilled with a wide variety of aesthetic procedures. She notes that before-and-after photos typically help patients get a better idea of the type of results they can expect to see, but she also stresses the importance of utilizing patient testimonials or reviews to find a dentist who is an effective communicator and good listener. Furthermore, Dr. Haggard notes that another key to obtaining exceptional smile makeover results is to work with a dentist who utilizes high-quality materials for dental restorations and enhancements. Ultimately, she says a combination of these qualities can help ensure the best chance of patient satisfaction.
About Ann E. Haggard, DDS
Dr. Ann Haggard earned her dental degree from Texas A&M Baylor College of Dentistry and has been serving the Clear Lake and Webster communities as a cosmetic dentist since 2004. She has continued to enhance her skills and knowledge through continuing education courses, and has been known to attend far more courses than what is required to maintain her credentials — averaging approximately ten times more courses than most other dentists. Through these educational courses, as well as her membership in professional organizations such as the American Academy of Cosmetic Dentistry, she is able to better serve her patients by staying abreast of the latest dental technology, techniques, and treatments. Dr. Haggard is available for interview upon request.
To learn more about Dr. Ann Haggard and her practice, visit designerforsmiles.com and facebook.com/designersmilestexas.
Contact:
Designer Smiles
1015 W. Medical Center Blvd. Suite 1600
Webster, Texas 77598
(281) 338-9032
Rosemont Media
(800) 491-8623
www.rosemontmedia.com