Laser Dentistry
Laser dentistry is one of the most exciting advances in dental technology. At Designer Smiles, we think it's important to bring you the latest and most precise dental procedures in the industry. Using the DEKA UltraSpeed CO2 laser, we offer the ultimate in soft tissue treatments. Lasers have been proven to reduce the pain, swelling, and bacterial formation that can occur during dental procedures. Lasers also ensure a better cut than that of a scalpel, and they sterilize surface tissues when used to create gum flaps. Often times, using a laser during surgery eliminates the need for sutures following the procedure. At Designer Smiles, our cosmetic dentists, Ann Haggard, DDS and Lauren Eichblatt, DMD, offer a wide variety of laser dental procedures in our office, which will make your visit a more pleasant and safe experience. On this page, you'll learn more about laser dentistry and some of the laser procedures we offer.
About the DEKA UltraSpeed CO2 Laser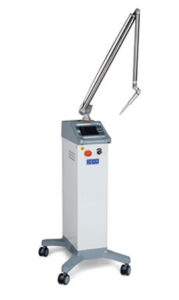 Often described as the "workhorse" of dental lasers, the versatile DEKA UltraSpeed CO2 laser is an important development in laser dentistry. Extensive research has proven this laser's wavelength to be one of the safest and most effective in dentistry today. The CO2 laser has been used in medicine for over 25 years and the DEKA UltraSpeed CO2 laser makes procedures virtually pain-free, speeds recovery, and improves dental procedures in general. The DEKA UltraSpeed CO2 laser is a leading tool in laser dentistry, and we are proud to offer it to our patients.
Implant Placement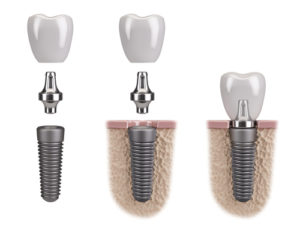 If you are missing teeth and would like to replace them with fully functional dental implants, your surgical procedure will be vastly improved by the use of our CO2 laser. The laser is used to create a socket in the tissue so that the implant post can be placed and bone tissue can grow in to surround the new implant. Additionally, the laser sterilizes the area, ensuring the best possible implant process and the best chance for success in an implant surgery procedure. The laser will also be used to seal the implant after it is placed in the jawbone. Find out more about placing dental implants by visiting our dental implants page.
Periodontal Treatment
Periodontal disease, also known simply as gum disease, can be common among adults. When left untreated, periodontal disease can lead to serious dental complications and health concerns. Gingivitis is the first stage of gum disease and can typically be treated with thorough professional cleanings and good oral hygiene. More advanced stages of periodontal disease are often treated using dental lasers to target diseased tissue, eliminate bacteria, and reseal the gums with minimal discomfort and rapid post-treatment healing. Laser gum treatments can significantly improve your oral health and prevent tooth loss caused by periodontal disease.
Rating:
Erica R.
"This place is the best!"
About the Office:
Office Cleanliness:5 stars
Staff Friendliness:5 stars
Short wait time:5 stars
Chairside manner:5 stars
Explained treatment:5 stars
Review Description:"Everyone here was so friendly from the moment I walked in! The atmosphere is just so comfortable and clean. They gave me a tour initially and had someone sit down and talk with me about what I was wanting out of my experience with them. They asked if I had any fears about the dentists to which I replied that I did. I was scared of the pain. I needed to get a really good deep cleaning due to having periodontal disease, but they numbed me so well with a cream prior to getting my objected anesthetic so I didn't feel a thing! She kept asking me throughout the cleaning if the medication was wearing off because if so she'd have them put more. 100% pain free!! They're very informative about the work you get done too which I love. I've referred most of my family here! Definitely give them a call, you won't regret it!"
With the advanced technology we have at Designer Smiles, you get the highest-quality treatments from experienced professionals who care about your smile. Providing less painful procedures, more effective results, and healthier smiles, laser dentistry is a vital, patient-friendly part of our dental practice. Contact Designer Smiles today and schedule your personal consultation with Dr. Ann Haggard or Dr. Marcus Haggard.