Is It Finally Time for Invisalign?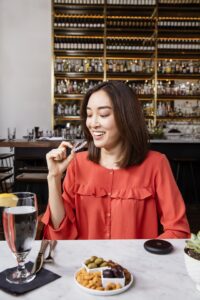 We are all waiting for a lot of things right now.  Waiting for our favorite restaurants to open, waiting for a COVID-19 vaccine, waiting to find out what will happen with schools in the fall . . .  One thing you don't have to wait for is Invisalign.  Now is the perfect time to start straightening your teeth with clear aligners!
Why Invisalign?
Invisalign is the "original" in clear aligner therapy.  There are many other brands on the market today, including some sold directly to consumers.  Invisalign is the gold standard, using the most advanced technology and the most effective aligner material, provided by the most skilled doctors.
Invisalign requires its treating doctors to undergo extensive training and continuing education in order to ensure that the highest standards of patient care in orthodontic treatment are consistently followed.  The lab technicians and orthodontists who work with your dentist on the virtual treatment plan before they make any aligners have decades of experience in moving teeth.
While other clear aligner products can deliver similar results, the best doctors choose the best technology and materials for their patients.  That's why Dr. Ann chooses Invisalign for her!
Why Now?
We don't mean to sound sarcastic, but what else are you doing in quarantine?!?
Perks of Aligning Teeth during Quarantine
Seriously, being stuck at home provides a great opportunity for teeth straightening.  Many of the obstacles people face to wearing the aligners a minimum of twenty-two hours per day do not exist in the days of coronavirus.  Fewer social events means fewer reasons to remove the aligners.  Because you aren't dining in at restaurants, you are not likely to leave the aligners wrapped in a napkin on the table.  When you are in public, social distancing means people are unlikely to get close enough to notice the aligners on your teeth.  And your work meetings via Zoom make discreetly wearing your aligners less noticeable than ever before.
Sooner is Always Better than Later
When it comes to life in general, there is no time like the present.  When it comes to straightening teeth, there are several reasons that sooner is better than later.
The sooner you straighten teeth, the more effective it is. As we age, several changes take place that make moving teeth more difficult.  Our teeth lose some of their vitality, becoming more brittle and easier to break.  The cells surrounding the teeth (which are necessary to break down and rebuild bone as required by orthodontic tooth movement within the jawbone) also have a much lower turnover rate.  It isn't impossible to move teeth in older adults.  It's just more difficult.
The sooner you straighten teeth, the shorter your treatment is. Not only do "younger" teeth move more quickly.  The orthodontic problems that Invisalign aims to correct worsen over time.  Crowded teeth become more crooked.  Spaces between teeth open and become larger and more noticeable.  More severe orthodontic problems require longer treatment for complete correction.  As with any dental treatment, early intervention leads to treatment that is more conservative.  In the case of orthodontics, more conservative translates to faster!
The sooner you straighten teeth, the longer you get to enjoy your beautiful new smile. Invisalign is a permanent investment in your appearance.  With the proper maintenance, your smile will not depreciate over time.  Essentially, straightening your teeth sooner makes it a better investment because it will pay off for more years in the future.
Why Designer Smiles?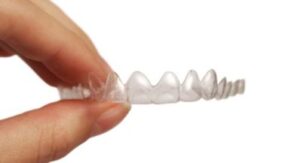 At Designer Smiles, we have a long history of creating beautiful smiles.  Dr. Ann began providing Invisalign orthodontic treatment for her patients more than thirteen years ago.  She was one of the first general dentists in the country to achieve "elite" status with Invisalign, a designation given to dentists who successfully complete a large number of Invisalign patient cases.  She's basically an aligner expert.
Dr. Ann not only performs consistently excellent orthodontic treatment with Invisalign.  She also teaches other dentists how to do so as a special guest lecturer for Invisalign continuing education courses.
If you are looking for clear aligner therapy to straighten your teeth with the most advanced technology, the most efficient material, and the most skilled dental team, look no further.  At Designer Smiles, we take three-dimensional intraoral scans of your teeth instead of gooey impression molds.  We use CBCT imaging to capture the most detailed information about your teeth and jaws with the lowest amount of radiation.  We follow the strictest protocols for infection control, and we screen every patient and staff member to eliminate any risk for COVID-19 exposure.
More Questions about Invisalign?
Call Designer Smiles today with any questions you have about Invisalign.  Our dedicated and educated team can answer your questions and schedule you for an orthodontic consultation with Dr. Ann.