Invisalign for Teens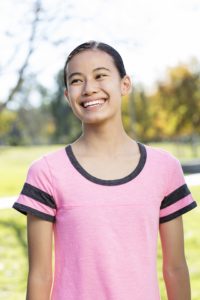 Did you know Invisalign is not exclusively for adults?  At Designer Smiles, we treat many teens with clear aligner therapy to create beautiful smiles. Invisalign offers some unique features that allow us to tackle the specific challenges of treating people who are not yet fully grown.
The biggest challenge in treating teenagers with removable aligners is ensuring that they actually wear them.  Let's be honest: that can be a problem with some adults, too!  To combat this challenge, Invisalign offers compliance indicators to inform the dentist of how long the teen actually wears the aligners.  These blue-colored dots slowly fade over each two week period of wear when worn for the prescribed amount of time.  If your teen does not wear the aligners, the blue will remain bright and visible.
Removable clear aligners only produce the correct tooth movement when they are in the mouth.  When a teenager wears aligners consistently, the results are fast, predictable, and beautiful.  These blue compliance indicators help us encourage your teen to wear the aligners for 22 hours a day in order to finish treatment as fast as possible!
Invisalign also has a configuration specially designed for teeth that haven't fully erupted (come into the mouth) yet.  This is important for treating adolescents and teenagers.  Being able to contact and guide incoming teeth helps produce more predictable tooth positioning.  It is actually much easier to guide and coerce a tooth into the right position as it comes into the mouth than to attempt moving it from an established position.  In our pre-treatment planning, we essentially prescribe the way the tooth moves into the mouth.
An important aspect of moving incoming teeth involves being able to engage teeth when only a small amount has protruded through the gums. Invisalign aligners create intimate contact with the tooth, even when only a small amount of the tooth is exposed in the mouth.
Interested in Invisalign for Your Teen?
Call Designer Smiles today to schedule a consultation with Dr. Ann and Dr. Lauren.  They can show you before & after photos of teenagers treated with Invisalign in our office and evaluate your teen for clear aligner therapy!