Get to Know Dr. Lauren
Dr. Lauren Eichblatt joined the team of Designer Smiles as an associate dentist in June of 2016.  But her relationship with Designer Smiles began much earlier than that.
The Beginning of a Beautiful Friendship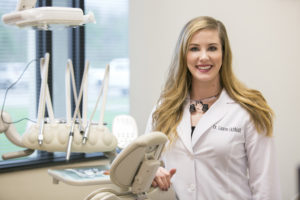 In fact, her father was a patient of Dr. Marcus Haggard many years ago.  Both of Dr. Lauren's pare
nts worked in the space industry, and her father retired from NASA after 45 years!  In 2005, during Lauren's junior year of high school, her dad asked Dr. Marcus if his daughter (Dr. Ann) would be interested in helping out with Lauren's high school softball team.  As Dr. Ann played competitive softball in high school (Clear Creek High School Class of 1996) and college (Centenary College Class of 2000), she was thrilled to have the opportunity to stay involved with the sport.
Dr. Ann and Lauren became friends during this time, and even at such a young age, Dr. Ann saw the future Dr. Lauren's potential for a successful career in dentistry.
After graduating from Clear Lake High School in 2006, Dr. Lauren attended Lehigh University in Bethlehem, Pennsylvania.  There, she earned her bachelor's degree in behavioral neuroscience with a minor in psychology in 2010.
A Decision for Dentistry
During each summer of undergraduate university study, Dr. Lauren returned home to Texas and worked with Dr. Ann at Designer Smiles.  She spent as much time as possible learning the ins and outs of a dental practice.  She functioned as a dental assistant, working with Dr. Ann chair side.
It was during these "summer sessions" that she made the decision to pursue a career in dentistry.  She had always been interested in medicine overall.  Working with Dr. Ann, she learned to see dentistry as the perfect blend of science and art.  She enjoyed the surgical aspect of dentistry and the tangible difference a dentist makes in the lives of her patients.
After earning her bachelor's degree, Dr. Lauren earned a master's degree in public health from the University of Texas School of Public Health in Houston in 2012.  This degree helped shape her philosophy on dentistry and access to care for the very old and very young.
Excelling in Education
She started dental school in 2012 at Midwestern University in Downers Grove, Illinois.  She had a very successful four years!  She served as her class president from 2012-2014, and she personally started the university's Cosmetic Dentistry Club.  She was inducted into the Omicron Kappa Upsilon honors fraternity and received the university's Excellence Award, which entitled her to walk first in her class at their graduation ceremony.
2016 – A Big Year!
In 2016, Dr. Lauren graduated from Midwestern University with her Doctor of Medicine in Dentistry degree.  Upon graduating, she moved straight back to Houston in order to start her new career at Designer Smiles, and she began practicing general dentistry with Dr. Ann.
In 2016, she also married her college sweetheart, Ben, whom she met in undergrad at Lehigh University.
Diverse Dental Experience
In addition to her patients at Designer Smiles, Dr. Lauren also loves caring for elderly patients through her involvement with mobile nursing home dentistry.  Her study in public health influenced her desire to reach those with difficulty accessing dental care.
When she is not actively caring for patients, she is learning new ways to care for patients.
Dr. Lauren has a thirst for knowledge, and she loves learning about new technologies that enhance her ability to perform excellent dentistry.  Dr. Lauren gets very passionate when she talks about three-dimensional scanning technology, and how it can be used to create beautiful smiles.  One of her current interests is in the concept of scanning beautiful smiles of natural teeth for the skilled dental lab technician to replicate.
Outside the Office
Dr. Lauren has a bit of a commute, on which she has learned to enjoy listening to audiobooks!  She is very well-read and loves to talk books.  By working at Designer Smiles, she gets to be closer to her parents who still live in the area.
At home, she and Ben have a two-year-old miniature Schnauzer named Macy.  On a cozy night in, you can find Dr. Lauren cuddling with Macy, crocheting and watching a movie with Ben.
Dr. Lauren and her husband also love to try new restaurants and travel as far and wide as possible..
Want to Know More about Dr. Lauren?
If you'd like to get to know Dr. Lauren a little better, come up to the office for a visit.  She has unofficially been around Designer Smiles for 12 years, but there are still many patients she has not yet gotten to know.