Why Do My Gums Bleed When I Floss?
When we discuss flossing with our patients (everyone's favorite subject, we know . . .) we often hear this question.  People are hesitant to do something that seems to be causing harm.  We get it.  The most important thing to understand is that your gums should not bleed when you floss.
How Flossing Can Make Healthy Gums Bleed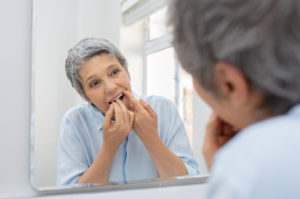 That is, healthy gums should not bleed when you floss.  If you see your dental hygienist regularly for professional teeth cleanings and floss every day, you should see no bleeding when flossing.  If you do, then it is possible that you are using the wrong technique.  Very aggressive flossing that forces the floss through the contacts between the teeth can make the healthy gums bleed as a result of the injury.
This seems to be more common when you have very tight contacts.  You have to push the floss with a lot of pressure to get it to go between the two teeth, and the floss's momentum after passing through the contact makes it slice into the underlying gum tissue with a lot of speed and force.
If this is the case for you, talk to Dr. Ann and Dr. Lauren about those areas that are difficult to floss.  We can actually adjust the tightness of those contacts, making it easier to pass the floss through.
You can also try a different technique which uses a see-sawing motion back and forth to gently pass the floss through instead of a hardline force straight into the gums.
Why Flossing Makes Unhealthy Gums Bleed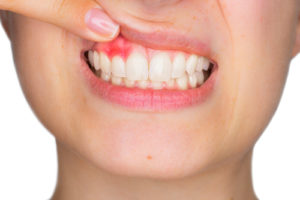 Far more common is the situation in which gums are unhealthy, and flossing just shows you that inflammation is present.  The whole point of flossing is to remove bacterial buildup from the teeth.  Disease-causing bacteria live in dental plaque that accumulates on the teeth.  These bacteria produce toxins that irritate the surrounding gum tissues.  The body's response to these toxins is inflammation.  It opens blood vessels to send immune cells to fight the dangerous toxins.  This increased blood flow leads to swelling, redness, and a tendency to bleed.
The bleeding tells you that you have inflammation present in that area of your gums.  That's what gingivitis is: inflammation of the gums.  On the front teeth, it is easy to see.  The gums look puffy and red; they may be tender when you touch them.  It's more difficult to tell if you have inflammation on back teeth simply because you can't see the gums well.  The bleeding is your warning sign that there is a problem.
Since the plaque is the cause of the inflammation, and the purpose of flossing is to remove plaque, you do need to keep flossing even if your gums bleed.  If you stop flossing, the buildup only increases, worsening your problem.
Inflammation sometimes results from hard tartar buildup, which is what develops from dental plaque that is not removed.  Unfortunately, you can't remove tartar on your own.  It can only be removed with specialized dental instruments.  You must see Phyllis or Nancy for a professional teeth cleaning.
What if You Floss Regularly and the Gums Still Bleed?
Another scenario that could cause bleeding during flossing despite consistent dental care and daily flossing is using the wrong technique.  It is possible to floss every single night and still leave plaque on the teeth.  If you're quickly passing the floss through the teeth in a straight up-and-down motion, you are probably leaving plaque on the teeth.
The proper technique that will clean the sides of the teeth best is "C-shaped" flossing.  This technique involves wrapping the floss around one tooth after you pass it through the contact, cleaning that tooth thoroughly, and then wrapping the floss around the neighboring tooth for the same purpose.  If you search YouTube for "C-shaped flossing", you will find several videos that show this technique in detail.
By improving your flossing technique, you will remove more dental plaque, reduce inflammation, and lower the risk of any bleeding when you floss.
Not Sure Which of These Scenarios Describes You?
If you aren't sure which one of these best describes you, call Designer Smiles today to set up a consultation with Dr. Ann, Dr. Lauren, Phyllis or Nancy.  They can assess your current situation, find any areas of inflammation, and make any recommendations necessary to heal that area.  Whether it is a change in your flossing technique, getting you back on the wagon with consistent teeth cleanings, or a serious gum infection, we have the tools to help you get back to complete gum health.