Stocking Stuffers that Your Dentist Loves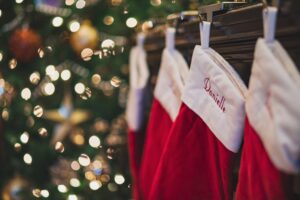 It's the most wonderful time of the year!  We know that you are probably in the thick of your holiday plans, including last minute Christmas shopping.  When you have stockings for stuffing, consider some of these dentist-approved items!
Floss
You know we have to recommend floss.  It is the perfect size for a stocking, and literally everyone needs it!  You can find some really fun flavors or scents of floss.
There are novelty brands that make silly types of floss like these breakfast floss scents.  Doesn't everyone love bacon?  We particularly enjoy the unique tropical scents of CocoFloss.
For little ones, you can find flosser sticks with cute animal shapes that make flossing fun.
Any of these choices would make fun stocking stuffers for people of all ages!
Floss isn't just a fun stocking stuffer!  It is an essential part of your daily oral hygiene routine.  It is also the part that most people ignore.  When you do not floss, you are actually leaving disease-causing dental plaque on about 35% of your tooth surfaces.  Flossing reduces your risk for gum disease and cavities, so it helps you spend less time at the dentist.  It also increases your lifespan by an estimated six years.
Chapstick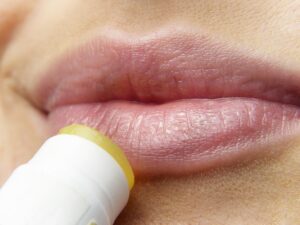 Chapstick is something everyone needs.  It is also something that everyone loses.  Seriously, have you ever used an entire tube of chapstick before you lost it?
Chapstick is a wonderful way to protect your lips from becoming dry and cracked.  We tend to need it more during the cold, dry winter months than at other times of the year, so now is the perfect time for gifting it.  Its compact size makes it a wonderful stocking stuffer.
Check out the fun holiday scents that Chapstick brand has available at this time of year.  And yes.  You can even find chapstick in a bacon variety here.
Chapstick isn't just a good way to keep your lips from drying out.  It also can provide vital protection from the sun.  The lips are susceptible to skin cancer, just as any area of the skin is.  Everyone, but especially those who spend many hours out of doors, needs to wear chapstick with an SPF of 15 or higher.  This helps you prevent diseases like squamous cell carcinoma on the lips.
Sugar-Free Candy
We know that candy has traditionally been a common stocking stuffer item.  Consider switching to a sugar-free formula of your favorite candy.
Our favorite recommendation is Ice Cubes gum.  It comes in a large variety of flavors, and it contains two grams of xylitol per piece.  Xylitol does not cause cavities like sugar does, and it actually inhibits the bacteria that cause gum disease and cavities.
Toothpaste Tabs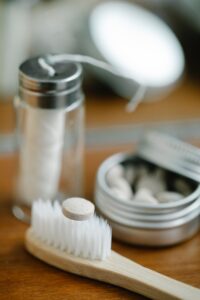 A relatively new concept, toothpaste and mouthwash tablets are a unique and compact stocking stuffer idea.  While most people continue to use a liquid mouthwash and gel-type toothpaste, others have begun switching to a tablet form of both.  The wide ranging motivations to make this switch includes concern for the environment and reducing plastic waste, as well as convenience in traveling.
Toothpaste and mouthwash tablets are small, power-packed tablets that you bite into and then either begin brushing with a wet toothbrush (the toothpaste tabs) or add a small amount of water and begin swishing (the mouthwash tabs).
These are quite fun to try, and many people will enjoy the strong minty flavor and great cleaning effectiveness of these tablets.
They produce a slightly watery consistency, relative to traditional gel toothpastes.  Do not let the lack of foam fool you.  Toothpaste tabs produce a wonderful, clean feeling on your teeth!  Check out these two brands: Bite and Huppy.
This is just the thing for that person in your life who loves the novelty of trying something new!
The Worst Stocking Stuffers
In order to help you strive for good oral health this holiday season, we want you to avoid stuffing your stockings with these items that carry the highest risk for cavities.
Consider the texture of any candies you are stuffing.  Those that are sticky in nature, like toffees, caramels or Starburst type candies, have a high cavity risk associated with them.  This is because the sticky candy will adhere to the deep pits and grooves on the chewing surfaces of the teeth.  As it sticks to the teeth, it provides a constant sugar supply to the cavity-causing bacteria, making cavities highly likely.
Avoid any types of candy that you enjoy by sucking on them for long periods of time.  This includes lollipops, candy canes, or hard candies.  We know these are great, traditional stocking stuffers.  The problem is that they also provide a constant source of sugar fuel to cavity-causing bacteria.  If your Christmas is incomplete without candy canes, try to find a sugar-free version!
More Questions about How to Keep Your Teeth Healthy this Holiday Season?
Call Designer Smiles today to schedule a visit with our wonderful dentists or dental hygienists.  We can answer any specific question you have and help you and your loved ones have a happy, healthy holiday!