Start the New School Year with a Smile!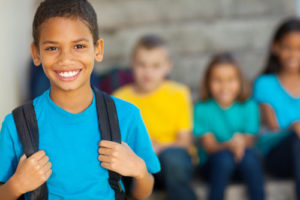 Summer is supposed to be a time of rest and relaxation, but we know that for most moms, it rarely is.  Before the kids go back to school, life is pretty insane with meet-the-teachers, last minute shopping, and "How did your feet grow so much in just three months?"
Now that those precious little ones are occupied from 8:00am to 3:00pm Monday through Friday, you can actually think about things you need to do.  Is going to the dentist on that list?  It should be!
Get Back on Track
Early fall is a great time for you to get yourself back on track with consistent dental visits.  Your kids are back to bedtimes and schedules.  You can actually plan to spend a few hours out without scheduling childcare.
Now you can make an appointment for your teeth cleaning and actually go to that appointment!
If it has been a while since your last cleaning, do not worry!  There is no shaming of our patients at Designer Smiles.  We understand that life is busy, especially when you have children to occupy all of your time.  Take advantage of that free daycare . . . ahem, we mean "school" . . . to do some of the things that have been on your to-do list for way too long.
Our fabulous dental hygienists, Phyllis and Nancy, are experts at not only cleaning the teeth, but also encouraging our patients to stay on track.  There are so many advantages to keeping a consistent schedule with your professional teeth cleanings.  Here are just a few:
Lowers your risk for cavities
Clears up gingivitis
Prevents gum disease
Improves bad breath
More comfortable, faster teeth cleanings (less sensitivity or discomfort during the actual teeth cleaning)
Take Care of Business
Some of you may have some dental business you have had to put off while you take care of other things throughout the summer.  That is okay!  Again, we will not shame you at Designer Smiles.  We know that life happens.
What we want you to know is that dental problems usually get worse over time.  So the sooner you can take care of them, the less extensive and less expensive they will be.  We cannot go back in time and do the treatment when the problems were originally diagnosed.  We can start from here!
If you need dental work that you already know about, give us a call as soon as possible so you can get an appointment with Dr. Ann or Dr. Lauren on the books.  Our awesome doctors will work with you to determine where to start.  Then Johnita, our office manager with decades of experience, will work with you to make a plan to get the work done in a way that works with your schedule and your finances.
Treat Yo' Self
You survived the last three months of no school!  You deserve a treat.  Is there something you have wanted to do with your smile in order to treat yourself?  Take a glance at these cosmetic dentistry options, and see if one might be right for you!
Teeth Whitening
Whitening your teeth is the fastest, most conservative way to improve your smile.  You can have a brighter, whiter smile in about an hour with in-office teeth whitening.
Or you can take matters into your own hands and use custom teeth whitening trays and professional strength gel.  This is our favorite teeth whitening option!  It allows you to get the results you want with the flexibility and options you need.  The custom-fit trays will last for years and years, so you can maintain your white smile for as long as you want.
Invisalign®
Are your teeth more crooked than they used to be?  Do you have spaces or gaps between your teeth that you do not like?  Invisalign® can fix that.
Invisalign® is the almost-invisible way to straighten your teeth.  Orthodontics does not have to interrupt your lifestyle.  Invisalign® allows you to get the smile of your dreams without wearing unsightly brackets and wires.
Bonus Tip: You can use your Invisalign® aligners as whitening trays, so your teeth are not just getting straighter . . . they're also getting whiter!
Smile Makeover with Porcelain Veneers
We do not call our Designer Smiles for no reason!  We love creating beautiful smiles for all of our patients.  One of the best ways you can transform a smile is with porcelain veneers.
Dr. Ann and Dr. Lauren work with the most skilled dental lab technician to create porcelain veneers designed specifically for your face.  We are not a "veneer factory", where every patient's smile looks the same.  We customize each and every tooth for the individual person.  We pride ourselves on attention to detail, making each veneer perfect for its spot in a smile and making each smile perfect in its face.
Now is the Time!
So whether you need to get back on track, take care of some business, or treat yourself, now is the time!  Call today to schedule an appointment with Dr. Ann and Dr. Lauren.