Is There a Way to Straighten Teeth without Braces?
Yes!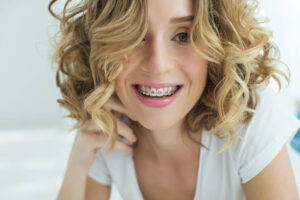 Well . . . kind of.  We will elaborate on the details here in this week's blog.  We know that the reason someone would ask this question is that they do not want to wear braces or aligners or they want a faster result without the long treatment time required for orthodontics.  If orthodontics is not for you, but a beautiful straight smile is, this blog is for you!
Moving Teeth vs. Covering Teeth
The technical answer to the question "Is there a way to straighten teeth without orthodontics?" is no.  Orthodontics means moving teeth, and that is the only way to actually reposition and straighten the teeth.  Moving teeth requires orthodontics.
Moving Teeth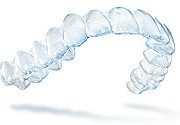 We do have ways to move the teeth without unsightly metal brackets and wires, though!  At Designer Smiles, we have created hundreds of beautiful, straightened smiles with Invisalign's clear aligner treatment.  This takes care of the esthetic problem caused by braces.  Clear aligners are virtually invisible and removable.  Many people love this way to straighten the teeth without the obvious appearance of braces.
Invisalign does not, however, take care of the problem of the length of treatment.  The average time for straightening adult teeth with clear aligners is about eighteen months.  If you know that wearing aligners for that length of time is not an option for you, you can consider the alternative of covering the teeth.
Covering Teeth
It is important to clarify that covering the teeth does not actually straighten them.  It simply creates the appearance of straightened teeth.  Porcelain veneers are the treatment of choice when we want to change the appearance of healthy teeth.  (Unhealthy teeth with cavities may require full coverage with dental crowns.)  Veneers are able to change the color, shape, and size of the teeth that they cover.  They can also make minor changes in the apparent position!
Benefits of Covering Teeth with Porcelain Veneers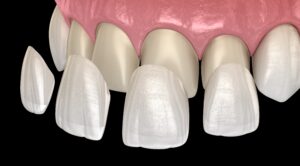 When it comes to the decision between moving and covering the teeth, there are several advantages to consider in covering the teeth.  In addition to creating the appearance of straight teeth, veneers provide the following advantages over orthodontic treatment alone.
Almost Immediate Results – Unlike orthodontic treatment, which requires months or years to move the teeth into the desired position, your dentist can cover the teeth and make them look straight in as few as two dental visits. So rather than wearing braces or aligners for over a year, you could have your beautiful smile in under one month.
Improves Appearance of Undersized or Misshapen Teeth – Because a porcelain veneer covers the visible surface of a tooth, it can re-create the size and/or shape in porcelain. This is a wonderful benefit for teeth that seem unnaturally small (very common in lateral incisors) or have chipped, jagged edges.  We often use porcelain veneers to rejuvenate teeth that are short or flat because that makes people look old.
Instant Teeth Whitening – While you can use your clear aligners as whitening trays, you cannot whiten your teeth during treatment with traditional braces. You and your dentist get to choose what color your porcelain veneers will be, so you can use them to whiten your teeth, without undergoing messy and time-consuming teeth whitening treatments.
Permanent Teeth Whitening – In addition to the instant teeth whitening, the color change produced by porcelain veneers is relatively permanent. Porcelain is a type of glass, and it does not accumulate surface staining as tooth enamel does.  While our teeth will naturally pick up stains from dark-colored foods and drinks, porcelain will not.  The veneers maintain their beautiful, shiny color for many years.
Limitations of Covering Teeth with Porcelain Veneers
Covering the teeth and seeing your beautiful straightened smile in under a month sounds almost too good to be true, right?  Well, there are certainly some limitations of which you must be aware when considering this as a treatment option.
Only Covers Minor Crowding – The ability of porcelain veneers to give the appearance of straight teeth depends on the extent of the misalignment. For example, teeth that are severely overlapped and crowded are not candidates for correction with veneers only.  Often, we will use a combination of Invisalign and veneers to create the best final result.  When the crowding or spacing of the teeth is mild, we can cover those problems with veneers and create the appearance of perfectly straight teeth.
Relatively More Expensive – Typically, orthodontic treatment has a single fee that covers the entire course of treatment. While braces and Invisalign are not cheap, they have relatively set costs.  With porcelain veneers, the cost accrues per tooth.  This could make is less expensive than orthodontics if you only want to cover a single tooth, or far more expensive if you want to cover all teeth that are visible in your smile.  If your goal is creating the appearance of straight teeth, you will need to cover a minimum of six teeth.
Changes Natural Tooth Structure – Most porcelain veneers require the dentist to remove some natural tooth structure. Hard tooth structure, like enamel and dentin, is one of the body's only tissues without the ability to re-grow itself.  This means that once we remove it, it can never come back on its own.  This makes the dental treatment of veneers an irreversible  Orthodontics is technically reversible, as we could move the teeth back to their original position if desired.
Can Fall Off or Break – Porcelain veneers are beautiful and brittle. They are at risk for breaking under extreme forces, so you cannot use them to open packages and cut fishing line.  Rarely, veneers will de-bond from the tooth and fall off in one piece.
More Questions about Straightening the Teeth or Porcelain Veneers?
At Designer Smiles, we are experts at creating beautiful smiles that our patients love.  We use both orthodontic treatment and veneers to deliver the results that our patients are seeking.  Call today to schedule a cosmetic consultation with Dr. Ann.  She can assess your unique situation and help you determine the best treatment option to accomplish your smile goals.