Give Yourself a Designer Smile for Christmas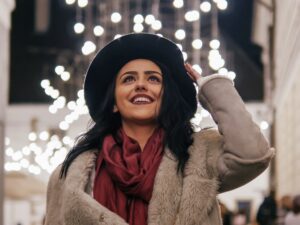 During the holidays, we spend time and money and effort to find the perfect gift for our loved ones.  While we typically (and rightly) focus on others at Christmas time, all of the shopping can sometimes make us think of things that we want, too.  
If you have found yourself dreaming of a beautiful smile, now is the time to treat yourself.  In this week's blog, we will cover some of the most popular ways people improve their smiles.
Teeth Whitening
Over time, teeth become darker in color.  This is a natural part of the aging process.  We also contribute to this darkening by consuming darkly colored foods and drinks.  People who drink coffee, tea, red wine, or use tobacco are susceptible to continuing yellowing of the teeth.  The good news? This is an easy problem to fix!
Professional teeth whitening contains chemicals that effectively penetrate enamel to break down dark pigments within the hard tooth structure itself.  This is in contrast to many products that claim to whiten the teeth but in fact only polish away surface stains (like whitening toothpastes).
The most efficient and effective way to truly whiten your teeth is through the use of professional teeth whitening.  We have helped our patients achieve outstanding color changes with custom-fitted carrier trays and professional strength whitening gels.  
This whitening method enables you to maintain a consistently bright, white color because the carrier trays will last for many years, and you can purchase refills of the professional whitening gel.  Some over-the-counter teeth whitening products do work, but they typically take longer and provide no opportunities for maintenance.
Teeth Straightening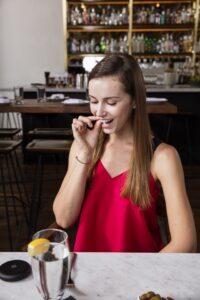 Many people have beautiful, healthy teeth in a smile that is not so beautiful due to the alignment of the teeth.  When teeth are crowded, overlapped, rotated, or gapped, it can be difficult to see that the teeth themselves are pretty.  We can correct these cosmetic issues by properly straightening the teeth.  
At Designer Smiles, we have created thousands of beautiful smiles with Invisalign, the clear aligner system of orthodontics.  Dr. Ann uses Invisalign, despite the availability of other, less expensive clear aligner systems, because it has the longest history of success and the highest standards of quality.
Clear aligners move the teeth by using the pressure of a perfectly fitted plastic tray that covers the teeth.  Orthodontic treatment with Invisalign involves a series of aligners, with each one creating a small amount of tooth movement.  Patients wear each aligner for ten to fourteen days to move the teeth and stabilize them into the new position before moving on to the next aligners in the series.
Our patients love Invisalign because they are virtually invisible and removable.  No one has to know you are straightening your teeth.  If you have a special event, like a wedding or important speech, simply remove the aligners.  
Aligners allow the patient to maintain great oral hygiene, keeping the teeth as clean as possible.  Many patients also choose to use the aligners as carrier trays for whitening gel, so they are whitening and straightening the teeth at the same time. 
Cosmetic Bonding
We are able to make minor changes to the front teeth using perfectly-matched, tooth-colored resin composite material, which some people call "bonding".  The reason for this term is the material's adhesive bond with natural tooth structure.  
Cosmetic bonding is a wonderful and conservative way to correct minor issues in the smile, such as closing small gaps, repairing chipped teeth, or building up a tooth that looks too small compared to its neighbors.  Cosmetic composite bonding is proof that minor changes can make a big difference in the appearance of your smile.    By restoring chipped or jagged edges of teeth, lengthening those that have suffered the damage of years of grinding, we can actually make someone look younger.  
Cosmetic bonding is conservative in that it does not require the removal of natural, healthy tooth structure.  Your dentist can simply round off and smooth any sharp edges and rebuild with this wonderful dental material.
Smile Makeover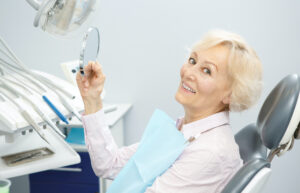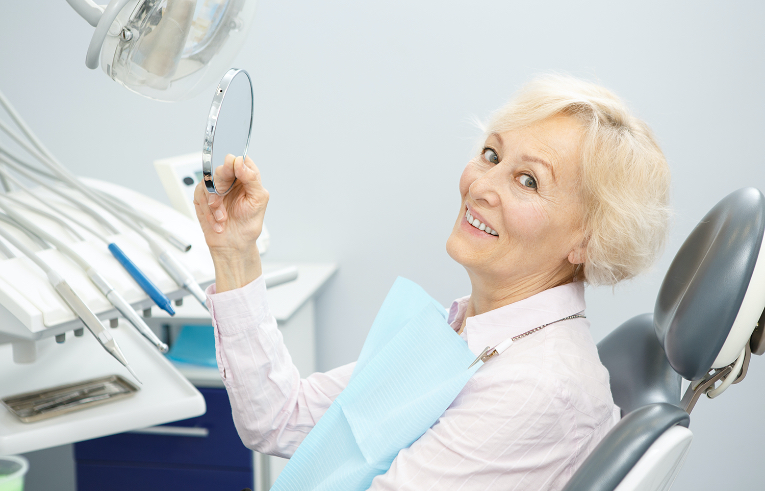 Maybe you are looking to make more than just minor changes.  We can recreate your entire smile with a smile makeover.  For some people, covering all of the visible teeth with porcelain veneers will accomplish their smile goals.  For others, more extensive restorations are necessary.  
With veneers, we recreate a smile by covering the existing teeth.  This is a great option when you have a full complement of healthy, but maybe unsightly, teeth.  Veneers are a wonderful treatment for correcting discolored teeth that do not respond to professional teeth whitening.  They also work well to correct teeth with an unnatural size or shape, as well as teeth with minor crowding or spacing.  
If the teeth are not perfectly healthy, more extensive work is necessary to both rebuild the teeth to healthy function and change the appearance to something more appealing.  If the teeth have active decay or multiple areas of dental work, we may need to cover the entire tooth with a dental crown.  Porcelain crowns are just as beautiful as porcelain veneers and perform both functional rehabilitation and cosmetic improvement.
Even if you are missing teeth, we can recreate a beautiful smile for you.  Dr. Ann is an expert at replacing missing teeth with dental implants or bridges.  We can replace an entire arch of missing teeth with a combination of dental implants and prosthetics.  It is our greatest pleasure to give you back your smile!
More Questions about Designer Smiles?
Call Designer Smiles today to schedule a cosmetic dentistry consultation with Dr. Ann.  She can answer any question you have about improving your smile.  We love creating beautiful smiles that our patients are proud to show off!  Give yourself something to smile about this Christmas.