Can I Get Invisalign When I Have Porcelain Veneers?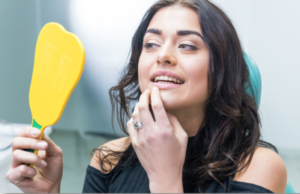 This is a very interesting question that, instead of inviting a response, invites more questions.  Can you?  Of course, you can.  But why do you want to?
As your dentist who cares about you and wants you to receive the best treatment possible, while also meeting your smile goals, we will have to ask some important questions first.  The purpose of the questions is so that we can understand why you are interested in Invisalign.  Moving the teeth after any type of cosmetic dentistry is usually not the best idea.  From a dental perspective, that would mean doing things in backwards order. For the best cosmetic results, we align the teeth first and then perform cosmetic dental treatments.
However, we understand that there could be some situations in which a patient desires to move the teeth after having already invested in porcelain veneers.  We just want to be careful.
Here are the things we will clarify before talking about your best options.
Have Your Teeth Moved or Shifted Since Getting the Veneers?
We ask this question to determine whether the veneers appeared to be straight or properly aligned when originally placed.  A very simple scenario is one in which the teeth covered by porcelain veneers were straight but then moved or shifted slightly over time, giving the appearance of crooked teeth.  This means that we should be able to use orthodontic treatment with Invisalign to return the teeth, veneers and all, to their original position.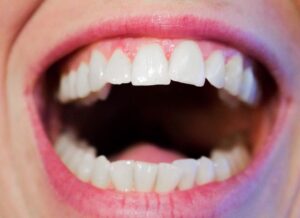 We will also investigate the alignment of the teeth under the porcelain veneers.  In many cases, veneers cover over orthodontic problems, simply masking them.  This is one of the scenarios that is not a good idea to thoughtlessly proceed with orthodontics.  The end result will likely be teeth that are straight underneath veneers that are crooked!
A third scenario is the rare instance in which the veneers appear out of alignment at their initial placement.  Again, this is rare, but perhaps you were not given the opportunity to approve the appearance before they were permanently cemented.  Or perhaps you thought they looked straight at first but quickly noticed misalignment after you got home.  Obviously this would be a very frustrating situation.  We are always willing to help you correct a problem of this kind, and we will discuss all of your options to do so.  Most likely, Invisalign will not be at the top of the list.
Are You Unhappy With the Color, Shape and Size of the Veneers?
Because Invisalign and all other orthodontic treatments only change the position of the teeth, it is important to assess the current overall state of the porcelain veneers.  Is there anything you would change in regard to their color, shape or size?  If the answer is "yes", then Invisalign will not solve the problem.  Dr. Ann is highly skilled in the use of Invisalign to correct a wide range of smile problems.  Problems of color, shape and/or size simply do not fall into that category.
It would be like using a flathead screwdriver to attempt to hammer in a nail.  It is just the wrong tool.
We can make structural changes by adjusting or replacing the porcelain veneers with new ones.
Are You Willing to Take the Risk that the Veneers Could Require Replacement After Invisalign Treatment?
As we stated earlier, moving the teeth with Invisalign treatment after porcelain veneers is backwards.  If you determine that you do indeed want to move the teeth despite having veneers, you must understand that there is a bit of risk associated with it.  By changing the position of the teeth, you are changing the appearance of the smile.  Veneers that were placed on the teeth in a specific position may appear different and less attractive when you move the teeth.
By requesting such treatment, you are taking a small risk that you might not like the veneers after orthodontics and then decide to replace them afterward.  This is not a terrible option.  It is only terrible for the patient who was not prepared for it, both emotionally and financially!
As any great cosmetic dentist should be, Dr. Ann is a perfectionist, and she will do everything in her power to give you the perfect, beautiful smile you desire.  With her many years of experience in both Invisalign and porcelain veneer treatments, Dr. Ann can typically predict when this is likely to occur and give you a big red flag before you start any treatment at all.
So Can You Get Invisalign with Porcelain Veneers?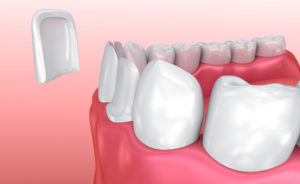 Yes, you can.  The aligners will fit over the veneers in the same way they do over a tooth.  The presence of porcelain veneers on the teeth does not affect the underlying mechanisms of orthodontic tooth movement.  There is little risk for chipping or de-bonding of porcelain veneers as long as they were properly placed on the teeth.  (Dr. Ann will assess this, too, and she can simply address any issues that arise during treatment.)
More Questions about Veneers or Invisalign or Both?
Call Designer Smiles today to schedule a consultation with Dr. Ann.  Working together, you will find the perfect solution to your smile problems.