Can I Get a Celebrity Smile with Porcelain Veneers?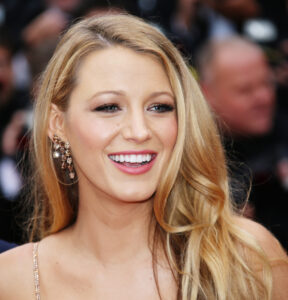 You may have your own unique idea of what a "celebrity smile" looks like.  To most, a celebrity or Hollywood smile consists of teeth that are very white, very straight, and uniform in shape and color.  Most people think of a smile in which you can see many teeth (eight to ten teeth), like Julia Roberts's smile.
If a celebrity smile is on your wish list, this blog is for you.  Here, we will explain how porcelain veneers can give you the smile of your dreams.
What are Porcelain Veneers?
Porcelain veneers are cosmetic coverings of the teeth.  They consist of individual units of porcelain, and you can choose to cover as many teeth as you would like.
A veneer covers only the visible surface of the teeth.  This means that it can change the appearance of a tooth without changing the way the teeth bite together.
Porcelain veneers can be thick enough to mask relatively major underlying cosmetic problems or contact lens thin.
What Cosmetic Problems Can Porcelain Veneers Cover?
We can correct many different cosmetic smile problems by covering them with porcelain veneers. Veneers are a wonderful way to improve a smile that includes discolored, chipped, or misshapen teeth.  We commonly use veneers to build up teeth that are disproportionately small compared to those around them.  Veneers can cover minor crowding and give the appearance of straight teeth.
We can also use porcelain veneers to close small gaps between the teeth.
Porcelain veneers are not a good option for teeth with large decay.  These teeth are weak and need the support of a full coverage crown.  Veneers are not capable of covering and correcting major orthodontic problems like severe crowding or large spaces between the teeth.  We cannot replace missing teeth with veneers, either.
What is a Celebrity Smile?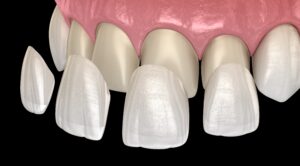 A celebrity smile is stereotypically bright white in color.  Most dentists would describe the tooth shade as opaque white with no variation in color.  Natural teeth are slightly off-white and translucent, with darker shading near the gums and brighter coloring near the biting edge.
A celebrity smile typically includes teeth that are perfectly straight in alignment.  There is no crookedness or spacing present.  Even the biting edges seem to be the same length.
In a celebrity smile, you can expect to see more than the front six teeth.  To achieve a celebrity smile, you should plan on covering a minimum of eight teeth with porcelain veneers, and consider covering ten.  By bringing the premolars (teeth behind the canines) out laterally, it gives the appearance of a wider smile.  You should see minimal black space between the corners of the lips and the teeth when smiling a celebrity smile.
In general, celebrity smiles use porcelain veneers to give teeth an overall youthful appearance.  Your smile does contribute to how old you look, and by lengthening and rounding the biting edges of the teeth, your cosmetic dentist can actually make you look younger.
What are some Other Ways of Achieving a Celebrity Smile?
If you are not a candidate for porcelain veneers, you may want to consider some other cosmetic dental treatment options.
Porcelain Crowns
Unlike porcelain veneers, which cover only the visible surface of a tooth, porcelain crowns cover all of the tooth.  With full coverage, they can add strength to a weakened tooth.  Porcelain crowns may be necessary to make cosmetic improvements on teeth that have significant decay or lots of existing dental work already.
Because they cover the entire tooth, they are also able to make changes in the bite relationship fo the upper and lower teeth.  While porcelain crowns certainly make cosmetic improvements in the smile, they also improve strength and functionality.
Teeth Whitening and Straightening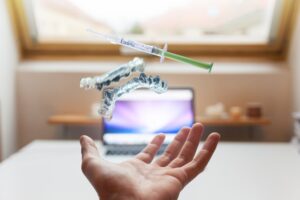 We can create beautiful smiles from healthy teeth that just happen to be discolored and crowded with teeth whitening and straightening.  We begin by straightening the teeth with clear aligners using the Invisalign system.  This will position your healthy teeth into a straight alignment.
The aligners fit closely over the teeth and make perfect carriers for professional whitening gel.  You can whiten your teeth while you are straightening them with Invisalign, so that at the end of your orthodontic treatment, your teeth are both straight and white.
This is a wonderful option for someone whose teeth are healthy and have a normal shape and size.
Implant Prosthetics
What about those who suffer from severe gum disease or already have missing teeth?  That doesn't mean you cannot achieve the smile of your dreams.  It just means that your celebrity smile may involve the use of replacement teeth via implant prosthetics.
With dental implants, we can anchor various types of replacement teeth to the jawbone, creating a stable and beautiful result.  We have both removable and fixed (cemented or screwed-in) options.
If you have multiple loose or missing teeth, implant prosthetics could be the right treatment option to help you get your celebrity smile.
Is a Celebrity Smile Right for Me?
After reading this far, maybe you're thinking that a celebrity smile isn't exactly what you're going for.  Don't worry!  (They actually aren't our favorite kind, either.). We aren't "Celebrity Smiles".  We are Designer Smiles.
We custom design each smile to meet our patients' unique and specific smile goals.  Many people prefer a natural looking smile that helps them look slightly younger and more friendly without being so obviously "fake".
Did you know that it is actually more difficult for a dentist to create a beautiful, natural smile than a celebrity smile?  Natural teeth have variation in color and translucence and shape.  Recreating the nuances of a naturally beautiful smile requires more skill by your dentist and more expertise by your dentist's chosen dental lab.
At Designer Smiles, we use the highest quality dental lab to produce excellent results.  Dr. Ann has decades of experience and education in cosmetic dentistry.  She can give you the designer smile of your dreams.
Am I a Candidate for Porcelain Veneers?
Not everyone is a candidate for porcelain veneers.  Veneers require both healthy underlying tooth structure and a healthy periodontal foundation.  Our first step in determining your best option for cosmetic dental treatment is to perform a thorough evaluation of your oral health.
If you need some preliminary work to get back to a state of good dental health, we can accomplish that for you quickly so that you are on the road to your celebrity smile as soon as possible!
More Questions about Celebrity Smiles?
Call Designer Smiles today to schedule a cosmetic consultation with Dr. Ann.  She has created hundreds of beautiful smiles with porcelain veneers, and even more through other dental treatment options.  She will work with you to establish your specific goals and help you select the treatment option that will achieve those smile goals.