A Sweet Smile for Valentine's Day
Ironically, to get a "sweet" smile, you have to be careful with sweets.  But that's not where we're going with this blog.  A sweet smile is one that is genuine, and to be genuine, it cannot be hindered by embarrassment or dislike.
What Prevents You from Smiling?
We do not mean being unhappy or suffering from resting B face.  We mean: what keeps you from smiling when you really want to?  If you tend to cover your smile with your hand or have just trained yourself to smile with your lips closed, you are not giving your best smile!
Do Crooked Teeth have you Hiding Your Smile?
Designer Smiles straightens teeth discreetly with Invisalign.  With clear aligners, you can work toward the smile of your dreams without the added embarrassment of metal braces and wires.  Invisalign even allows you to remove the aligners for special events.
Most patients with crowded or crooked teeth can straighten their teeth in around 18 months with Invisalign treatment.  You are only a year and a half away from a straight, beautiful smile!
Do Stained or Yellow Teeth Keep You From Smiling?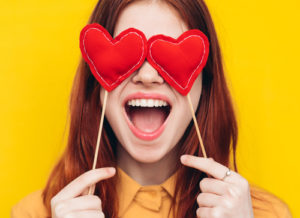 Did you know that teeth whitening is the easiest, fastest, and least expensive way to improve your smile?  Many adults do not like the appearance of their teeth due to staining from years of coffee, tea, and red wine drinking.  Tobacco is also a big culprit in causing yellow or dingy-looking teeth.
Teeth whitening is a multibillion-dollar industry with products galore.  It can be hard to know where to start.  If you want the biggest bang for your buck, professional teeth whitening is the way to go.  At Designer Smiles, we use custom-fitted trays to apply professional strength whitening gel to the teeth.  We call this the "gold standard" in teeth whitening.  This provides the most predictable results of all the whitening options available today.
Does Old, Ugly Dental Work have you Hiding Your Smile?
Dentistry has come a long way over the last forty years!  The "cosmetic" restorations of the 1970's and 1980's, while they were better than the alternatives at the time, are not very cosmetic today.  Old porcelain crowns with a metal core can show a dark grey or black line at the gums.  Old tooth-colored fillings collect stain from the decades of coffee, tea and wine drinking.  Maybe dark metal fillings in your back teeth keep you from throwing your head back in laughter.
All of these problems are fixable at Designer Smiles!  Dr. Ann and Dr. Lauren have extensive training in cosmetic dentistry and continue to advance their education in that area every single year.  Advances in dental materials give dentists better cosmetic options for restoring a tooth.  Most crowns are now metal free.  Composite (tooth-colored) fillings are now much more resistant to staining.
Do not let a grey line at the gums on your front tooth keep you from giving people your best smile!  Replace it with a perfectly-matched metal-free crown.
Do Missing Teeth Keep You from Smiling?
Perhaps you are afraid to smile too widely because it will show a black space where you are missing a back tooth.  Did you know that replacing missing teeth is NOT merely a cosmetic issue?  It is important to replace missing teeth so you can chew normally.
At Designer Smiles, we provide the highest quality, customized dental implant restoration of missing teeth.  By replacing missing teeth with dental implants, you are not only restoring your mouth back to normal function; you are also improving your smile!
Why Fix Your Smile Now?
Why not?  The sooner you fix problems in your smile, the longer you get to enjoy your beautiful smile.  Investing in your smile is also investing in your health.
Straight teeth have a lower risk for cavities and gum disease.
Teeth whitening gel actually kills bacteria that lead to gum disease.
Old dental work is often deficient and no longer protecting the tooth adequately.
Missing teeth decrease your ability to chew properly. Multiple missing teeth can affect your digestion.
Are You Ready to Stop Hiding Your Smile?
Call Designer Smiles to set up a consultation with Dr. Ann and Dr. Lauren.  They will give you all the treatment options available to improve your smile and help you choose the one that is right for you!